All Asia Heavyweight Championship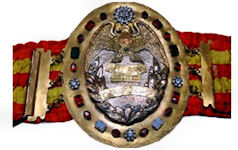 Details
The All Asia Heavyweight Championship was a title contested for in All Japan Pro Wrestling (AJPW). Prior to being used in AJPW, the title was defended in the Japan Wrestling Association (JWA). On July 29, 1976, New Japan Pro Wrestling recognized Tiger Jeet Singh as the champion after he defeated Seiji Sakaguchi, but Singh abandoned his version of the title on May 21, 1981.
Title History
Edit
#
Wrestler
Reign
Date
Location
Length
Notes
1
Rikidozan
1
November 22, 1955
Tokyo, Japan
2,945

Days

Defeated King Kong Czaya in tournament final to become the first champion.
—
Vacated
—
December 15, 1963
N/A
N/A
Title vacated when Rikidozan died.
2
Kintaro Ohki
1
November 9, 1968
Seoul, South Korea
1,209

Days

Defeated Buddy Austin to win the vacant title.
3
Bill Dromo
1
January 15, 1971
Tokuyama, Japan
18 Days
4
Kintaro Ohki
2
February 2, 1971
Hiroshima, Japan
2,061 Days
The title became inactive on April 14, 1973, when the JWA closed, and was reactivated on March 26, 1976 after New Japan Pro Wrestling announces creation of its own version of the title.
—
Vacated
—
September 24, 1976
N/A
N/A
Title held up after match against Waldo Von Erich in Omiya, Japan.
5
Kintaro Ohki
3
October 21, 1976
Fukushima, Japan
373 Days
Defeated Waldo Von Erich in a rematch to win the held up title.
6
Giant Baba
1
October 29, 1977
Kuroiso, Japan
1,262 Days
Already held the PWF Heavyweight Championship, so both titles may have been defended simultaneously, or not at all.
—
Vacated
—
April 13, 1981
N/A
—
He may have never defended the title and New Japan Pro Wrestling version is retired on May 21, 1981.
7
Kintaro Ohki
4
1981
South Korea
? Days
—
Title Abandoned
—
February 4, 1995
N/A
N/A
Ohki, who had not wrestled in nearly a decade, officially retired and the title was abandoned.
Ad blocker interference detected!
Wikia is a free-to-use site that makes money from advertising. We have a modified experience for viewers using ad blockers

Wikia is not accessible if you've made further modifications. Remove the custom ad blocker rule(s) and the page will load as expected.