Andromeda Ken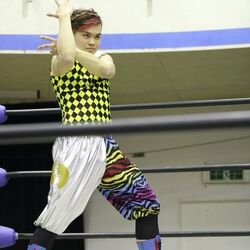 Birth name
Kensuke Watanabe
Born
August 4 1997
Tokyo Japan
Professional wrestling career
Ring name(s)
Andromeda Ken
Height
1.73 m (5 ft 8 in)
Weight
69 kg (152 lb)
Trained By
Wrestle-1 Dojo
Debut
November 12, 2016
Kensuke Watanabe (渡辺 健介, Watanabe Kensuke, born August 4, 1997), is a Japanese professional wrestler who works currently for Wrestle-1 on thier sub-promotion Pro Wrestling A.C.E under the ring name of Andromeda Ken.
Professional wrestling career
Edit
On September 27, 2016 Ken made his debut in exhibition match against Takuya Kobayashi. On November 12 it was announced that Ken will be joining his rookie mates to Pro Wrestling A.C.E he made his official debut losing to Shota Nakagawa. On December 5 he started to wrestle under new ring name of Andromeada Ken.
In wrestling
Edit
Ad blocker interference detected!
Wikia is a free-to-use site that makes money from advertising. We have a modified experience for viewers using ad blockers

Wikia is not accessible if you've made further modifications. Remove the custom ad blocker rule(s) and the page will load as expected.