Bryan Clark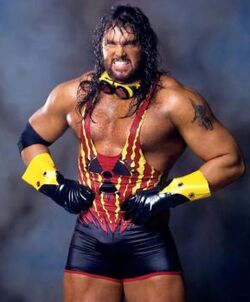 Birth name
Bryan Emmett Clark
Born
March 14 1964[1]
Harrisburg, Pennsylvania, US[2]
Resides
Scottsdale, Arizona
Professional wrestling career
Ring name(s)
Adam Bomb[3]
Bryan Clark[1]
The Nightstalker[1]
Wrath[1]
Height
6 ft 9 in (2.06 m)[3]
Weight
290 lb (130 kg)[3]
Trained By
Jody Hamilton[1]
DeWayne Bruce[1]
Debut
1989[4]
Retired
2003
  Bryan Emmett Clark[5] (born March 14, 1964)[1] is an American retired professional wrestler. He is best known for his appearances with World Championship Wrestling, the World Wrestling Federation and All Japan Pro Wrestling under the ring names The Nightstalker, Adam Bomb and Wrath and under his own name. He is a former WCW World Tag Team Champion and AJPW World Tag Team Champion.[3]
Professional wrestling career
Edit
Early career (1989-1993)
Edit
Clark made his wrestling debut in 1989 under the ring name The Nightstalker, competing in the Minnesota-based American Wrestling Association.
When the AWA folded in 1991, Clark began competing for World Championship Wrestling.[6] He replaced an injured Diamond Studd at Starrcade to team with Rick Steiner in a losing effort to Vader and Mr. Hughes.
Clark joined Smoky Mountain Wrestling and defeated Tracy Smothers to become the promotion's second-ever "Beat The Champ" Television Champion on February 2, 1993. He lost the title to Tim Horner six days later.[7] He also briefly wrestled in Herb Abrams' Universal Wrestling Federation.[8]
World Wrestling Federation (1993–1995)
Edit
In May 1993, Clark debuted in the World Wrestling Federation as Adam Bomb, the newest client of Johnny Polo.[9] Wearing luminous green contact lenses, and sporting a red tongue. Bomb's gimmick was that of a survivor of the infamous Three Mile Island nuclear meltdown accident, which was further emphasized by his ring name being a pun on the "atom bomb".[9] Seven months after his debut, Harvey Wippleman replaced Polo as Bomb's manager because Polo wanted to focus on managing WWF Tag Team Champions The Quebecers. The Adam Bomb concept and costume was designed and created by Tom Fleming.[10]
Bomb made his pay-per-view debut at Survivor Series, where he teamed up with Irwin R. Schyster, Diesel and "The Model" Rick Martel against Razor Ramon, The 1-2-3 Kid, Marty Jannetty and "The Macho Man" Randy Savage in an elimination match. His team went on to lose the match, though he was the last remaining wrestler for his team before being pinned by Jannetty after a roll-up.
Following this, he participated in the 1994 Royal Rumble, where he was the final entrant in the match. However, he lasted less than five minutes before being eliminated by Lex Luger. He also was one of nine wrestlers who helped Yokozuna beat Undertaker during a Casket match. Following the Rumble and a feud with Earthquake, Bomb turned face after his manager Harvey Wippleman turned on him and helped new client Kwang attack him. As a face, he would throw rubber nuclear missiles into the audience as he walked to the ring and after he won a match. After briefly feuding with Kwang and Bam Bam Bigelow, Bomb was moved down the card and began competing exclusively on WWF Superstars before leaving the promotion in August 1995.
World Championship Wrestling
Edit
Blood Runs Cold (1997–1999)
Edit
In 1997, Clark rejoined WCW as Wrath at Uncensored, a helmeted martial artist who, along with Mortis, battled Glacier and Ernest Miller. The four characters, collectively known as "Blood Runs Cold", was WCW's attempt to tap into the popularity of the Mortal Kombat video games. The angle continued until 1998 when Clark suffered an injury. After recovery, he returned to singles action later in the year as a face, debuting both a new attire and finishing move called the Meltdown while all Blood Runs Cold references were phased out. After a lengthy undefeated streak, Clark tore his ACL in a match against Jerry Flynn on April 15, 1999 and spent a year recuperating.[11]
KroniK (2000–2001)
Edit
Clark returned to the ring in April 2000, now using his real name. He formed a tag team with Brian Adams known as KroniK, and both became members of the New Blood.[11] However, KroniK switched allegiances to the Millionaires Club after Vince Russo betrayed them and, on May 15, 2000, they defeated Shane Douglas and The Wall to win the vacant World Tag Team Championship.[11] They later lost the title on May 30 to New Blood members Shawn Stasiak and Chuck Palumbo. KroniK was granted a rematch for the title at Bash at the Beach on July 9, and was successful in reclaiming World Tag Team Championship.[11] KroniK then entered a feud with the entire Natural Born Thrillers stable, but retained the title against the Thrillers before losing it to Vampiro and The Great Muta at New Blood Rising on August 13.[11] Following the title loss, KroniK turned heel after Vince Russo managed to bribe them in order to have them attack Bill Goldberg, who would be fired if he lost a single match. However, Goldberg managed to overcome the odds and pinned both Clark and Adams in a handicap match at Halloween Havoc.[11] KroniK continued working as "hired muscle" by helping The Boogie Knights battle The Filthy Animals, and eventually helped their former enemies the Natural Born Thrillers before turning face once again in January 2001 by siding with Ernest Miller.
KroniK was sidelined when Clark needed stitches for a wound from a chair shot while Adams was hospitalized with appendicitis. While they were injured, WCW was purchased by the World Wrestling Federation in March 2001.
Return to WWF, independent circuit and retirement (2001–2003)
Edit
Clark and Adams returned to the WWF on the September 4, 2001 episode of SmackDown! by attacking and double chokeslamming The Undertaker.[12] The team would go on to face The Brothers of Destruction at Unforgiven 2001 in a match for the WWF Tag Team Championship, which Clark and Adams lost. After two dark matches and a pay-per-view appearance, Clark was released from his contract while Adams began working for the Heartland Wrestling Association, which served as WWF's developmental territory.
After Brian Adams was released from the WWF in November 2001, he and Clark reformed KroniK made one appearances on the independent circuit, most prominently for World Wrestling All-Stars and All Japan Pro Wrestling. During their time in AJPW, they defeated Keiji Mutoh and Taiyō Kea for the World Tag Team Championship on July 17, 2002.[1] KroniK were later stripped of the title due to contract problems. They wrestled their last match together in January 2003, losing to Goldberg and Keiji Mutoh. Shortly afterwards, both Adams and Clark retired due to injuries.
Personal life
Edit
In July 2016, Clark was named part of a class action lawsuit filed against WWE which alleged that wrestlers incurred traumatic brain injuries during their tenure and that the company concealed the risks of injury. The suit is litigated by attorney Konstantine Kyros, who has been involved in a number of other lawsuits against WWE.[13]
In wrestling
Edit
Finishing moves
Signature moves

Backhand chop[17]
Chokeslam[19]
Elbow drop[20]
Diving fist drop[21]
Inverted atomic drop[20]
Inverted Boston crab[22]
Multiple suplex variations
Plancha[26]

With Brian Adams
With Mortis
Managers
Entrance themes

"War Machine" by Kiss (SMW)
"Love Dump" by Static-X (AJPW)
Championships and accomplishments
Edit
Pro Wrestling Illustrated
Smoky Mountain Wrestling

SMW Beat the Champ Television Championship (1 time)[7]

World Championship Wrestling

WCW World Tag Team Championship (2 times) – with Brian Adams[32]

Wrestling Observer Newsletter

Worst Worked Match of the Year (1990) vs. Sid Vicious at Clash of the Champions XIII
Worst Worked Match of the Year (2001) with Brian Adams vs. The Undertaker and Kane at Unforgiven
Worst Tag Team (2000, 2001) with Brian Adams
References
Edit
↑ 3.0 3.1 3.2 3.3 3.4 3.5 3.6 "Adam Bomb". WWE.com. WWE. http://www.wwe.com/superstars/adam-bomb

. Retrieved June 1, 2014

.
↑ 4.0 4.1 "Pro Wrestling Illustrated 500 – 1995: 47 Adam Bomb". Pro Wrestling Illustrated. Blue Bell, Pennsylvania, United States: Sports and Entertainment publications LLC. September 21, 1995. p. 32. October 1995.
↑ "Intelius People Search Report". https://www.intelius.com/results.php?ReportType=1&qf=Bryan&qmi=E&qn=Clark&qcs=Scottsdale%2C+AZ&focusfirst=0

. Retrieved 16 June 2012

.
↑ PWI Staff (2007). "Pro Wrestling Illustrated presents: 2007 Wrestling almanac & book of facts". "Wrestling's historical cards". Kappa Publishing. pp. 136–137.
↑ 7.0 7.1 "SMW Television Championship history". http://prowrestlinghistory.com/smw/results/smwtitles.html#tv.
↑ 9.0 9.1 Shields, Brian and Kevin Sullivan (2009). WWE Encyclopedia. DK/BradyGAMES, 8. ISBN 978-0-7566-4190-0.

 

↑ "Never-before-seen Superstar sketches from the WWE Vault". WWE.com. http://www.wwe.com/classics/superstar-sketches-photos

. Retrieved February 8, 2016

.
↑ 11.0 11.1 11.2 11.3 11.4 11.5 11.6 Cawthon, Graham (2015). the History of Professional Wrestling Vol 5: World Championship Wrestling 1995-2001. CreateSpace Independent Publishing Platform. ISBN 1499656343.

 

↑ "WWE sued in wrestler class action lawsuit featuring Jimmy 'Superfly' Snuka, Paul 'Mr Wonderful' Orndorff". FoxSports.com. Fox Entertainment Group (21st Century Fox). July 18, 2015. http://www.foxsports.com.au/what-the-fox/wwe-sued-in-wrestler-class-action-lawsuit-featuring-jimmy-superfly-snuka-paul-mr-wonderful-orndorff/news-story/079fbd7db16f9cd71b7b569672baa4a5

. Retrieved July 20, 2016

.
↑ 17.0 17.1 17.2 17.3 "Report for Nitro on September 7, 1998". http://www.ddtdigest.com/updates/1998091m.htm.
↑ 18.0 18.1 18.2 "Report for Nitro on September 21, 1998". http://www.ddtdigest.com/updates/1998093m.htm.
↑ 19.0 19.1 19.2 "Bash at the Beach report on July 9, 2000". http://www.ddtdigest.com/updates/2000072p.htm.
↑ 20.0 20.1 20.2 20.3 "Report for Nitro on August 31, 1998". http://www.ddtdigest.com/updates/1998085m.htm.
↑ 21.0 21.1 "Report for Thunder on September 17, 1998". http://www.ddtdigest.com/updates/1998092t.htm.
↑ 22.0 22.1 "Report for Saturday Night on January 24, 1998". http://www.ddtdigest.com/updates/1998014s.htm.
↑ "Report for Saturday Night report on September 12, 1998". http://www.ddtdigest.com/updates/1998092s.htm.
↑ 26.0 26.1 "Report for Halloween Havoc on October 25, 1998". http://www.ddtdigest.com/updates/1998104p.htm.
↑ 27.0 27.1 "Brian Adams' Online World of Wrestling profile". Online World of Wrestling. http://www.onlineworldofwrestling.com/profiles/k/kronik.html

. Retrieved 2009-08-04

.
↑ "AJPW Unified World Tag Team Championship history". http://wrestling-titles.com/japan/alljapan/aj-t.html.
↑ https://web.archive.org/web/20080616064424/http://www.100megsfree4.com/wiawrestling/pages/pwi/pwi500yr.htm
↑ "10 totally awesome tag teams you completely forgot about". WWE.com. WWE. http://www.wwe.com/classics/10-tag-teams-forgot-about-photos

. Retrieved June 1, 2014

. "They later won the WCW Tag Team Titles on two occasions."
Ad blocker interference detected!
Wikia is a free-to-use site that makes money from advertising. We have a modified experience for viewers using ad blockers

Wikia is not accessible if you've made further modifications. Remove the custom ad blocker rule(s) and the page will load as expected.