CHANGO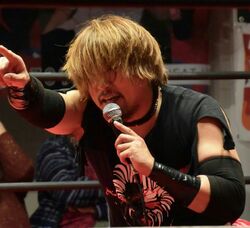 Born
December 25 1980
Fukushima, Japan
Professional wrestling career
Ring name(s)
CHANGO
CHAN MINORU
Fake Sting
Suna Kake CHANGO
Sunakake CHANGO
Guillermo Akiba
Guillermo Chango Akiba
VKF Machine #2
Height
5 ft 6 in (1.68 m)
Weight
165 lbs (75 kg)
Trained By
Ultimo Dragon
Debut
May 11, 2005
CHANGO is a Japanese professional wrestler. He currently wrestles as a freelancer in the Japanese independent circuit and as a regular in Guts World.
In wrestling
Edit
Finishing moves

Monkey Flip
Guilloutine Leg Drop
Welcome To Chicago
Championships and accomplishments
Edit
Ad blocker interference detected!
Wikia is a free-to-use site that makes money from advertising. We have a modified experience for viewers using ad blockers

Wikia is not accessible if you've made further modifications. Remove the custom ad blocker rule(s) and the page will load as expected.