Daiki Shimomura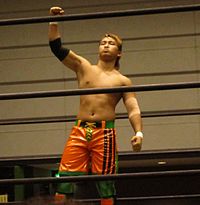 Shimomura in 2017
Born
January 9 1998
Saitama, Japan
Professional wrestling career
Ring name(s)
Daiki
Daiki Shimomura
Hiranito Collection A.T.
Height
1.63 m (5 ft 4 in)
Weight
70 kg (154 lb)
Trained By
DDT Dojo
Debut
March 5, 2016
Daiki Shimomura (西垣彰人, Shimomura Daiki, born January 9, 1998) is a Japanese professional wrestler currently working for Dramatic Dream Team (DDT) and primarily working on its sub-brand DDT New Attitude (DNA).
Professional Wrestling career
Edit
Early Carrer
Edit
Shimomura made made his unofficial wrestling debut on May 17, 2014 at Nukui Grass Wrestling, while also being at school the same time. He shortened his name to only his first name Daiki. On August 22, 2015 Shimomura left Nukui Grass Wrestling and in September he move to Dramatic Dream Team's sub-brand DDT New Attitude.
DDT Pro-Wrestling/DDT New Attitude (2016-Present)
Edit
After training for about almost one year he debuted at DNA 14 on March 5 losing to Kota Umeda. He got his first victory on DNA 18, when teamed with Kazusada Higuchi in a winning effort against Kouki Iwasaki and Shunma Katsumata. As is customary for most professional wrestlers, Shimomura spent most of his matches losing to other, more experienced wrestlers, which would help put over other wrestlers while at the same time give Kodama some in-ring, televised, experience. In October he took part of the DNA Grand Prix, finishing the tournament with a record of two wins and three losses.
In Wrestling
Edit
Signature moves

Mounsault
450 Splash
La Quebrada (Top rope moonsault to an opponent outside)
Ad blocker interference detected!
Wikia is a free-to-use site that makes money from advertising. We have a modified experience for viewers using ad blockers

Wikia is not accessible if you've made further modifications. Remove the custom ad blocker rule(s) and the page will load as expected.