Don Arakawa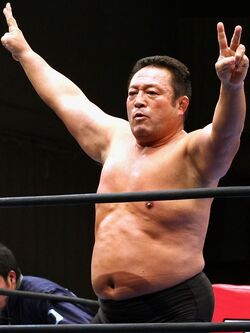 Birth name
Makoto Arakawa
Born
March 6 1946
Izumi, Kagoshima, Japan
Professional wrestling career
Ring name(s)
Don Arakawa
Kengo Arakawa
Makoto Arakawa
Height
1.70 m (5 ft 7 in)
Weight
95 kg (209 lb)
Trained By
Kotetsu Yamamoto
Debut
September 19, 1972
  Makoto Arakawa (荒川真, Arakawa Makoto?) was a Japanese professional wrestler batter known by the ring name Don Arakawa (ドン・アラカワ, Don Arakawa?), he worked for many promotions, such as New Japan Pro Wrestling, Super World of Sports, All Japan Pro Wrestling and many more. During his time in NJPW he won the 1974 Karl Gotch Cup, now he is a commentator and he is also recognized as one of New Japan Gratest Wrestlers.
Mokoto Arakawa joined NJPW in 1972 with the name of "Little Hamada." Later, his physical similarity with Rikidozan was availed to make him a comedy character. Don Arakawa announced his retirement for the first time in 1989, but a year later he made a comeback in SWS. After its failure, he never officially joined another wrestling promotion. One of the most important comedy characters in Japan, Arakawa occasionally wrestled in some shows, teaming up with other "modern" comedy wrestlers. In 2011, Arakawa would be inducted to the NJPW Greatest Wrestlers Hall of Fame.
In wrestling
Edit
Finishing moves

Backslide
Chickenwing Facelock
German Suplex Hold
Piledriver
Uppercut
Wrestlers trained
Edit
Championships and accomplishments
Edit
Ad blocker interference detected!
Wikia is a free-to-use site that makes money from advertising. We have a modified experience for viewers using ad blockers

Wikia is not accessible if you've made further modifications. Remove the custom ad blocker rule(s) and the page will load as expected.