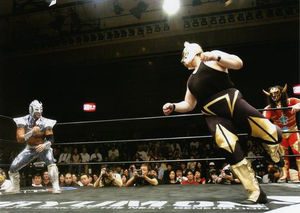 Dragon Fire ~The Final Challenge~ was an Ultimo Dragon Productions event. It took place on October 14, 2004 at Korakuen Hall in Tokyo, Japan.
Dragon Fire was the first event promoted by Ultimo Dragon in Japan without actually using the Toryumon name, though it would use the Toryumon X ring and feature a talent roster made up largely of the Ultimo Dragon Gym 3rd Class graduates. As such, the show is often mistaken as a Toryumon X event.
The first two matches were a unique Loser of the Dragon Way. Three trios teams and Manabu Murakami competed in groups. The first two teams to successfully score a fall no longer had to compete, while the others must then face off in an elimination match. The winner of each fall, again, no longer had to compete, until the sole wrestler to not score a fall is deemed the Loser of the Dragon Way.
The show was most notable for the main event where three of the then four wrestlers to have competed as Tiger Mask teamed together as the character against Ultimo Dragon, Great Sasuke, and Jushin Thunder Liger. The three Tiger Mask wrestlers to compete were Satoru Sayama (Original Tiger Mask), Koji Kanemoto (Tiger Mask III), and Tiger Mask IV.
#
Results
Stipulations
Times
1
GALLARDO, Lambo Miura and Murciélago vs. Manabu Murakami vs. Mango Fukuda, Passion Hasegawa, and Pineapple Hanai vs. Mini CIMA, Small Dandy Fujii, and SUWAcito
- GALLARDO pinned Hasegawa in 7:14
- Fukuda pinned Murakami in 9:54
Loser of the Dragon Way First Stage Ten-Man Tag Team Handicap Match
9:54
2
Manabu Murakami, Mini CIMA, and SUWAcito defeated Small Dandy Fujii
- SUWAcito pinned Murakami in 0:56
- CIMA pinned Murakami in 1:11
- Murakami pinned Fujii in 3:04
Loser of the Dragon Way Second Stage Four-Way Match
3:04
3
Jinsei Shinzaki and Shinjitsu Nohashi defeated Kei Sato and Shu Sato
Michinoku Pro Tag League Match
11:16
4
King Ali Baba vs. Toru Yano
Double Count Out
Singles Match
5:34
5
Takeshi Minamino © defeated Taiji Ishimori
UWA World Welterweight Championship Match
9:56
6
Original Tiger Mask, Tiger Mask III, and Tiger Mask IV defeated Great Sasuke, Jushin Thunder Liger, and Ultimo Dragon
Six-Man Tag Team Match
20:41
© - Refers to the champion heading into the match.