Frank Atsushi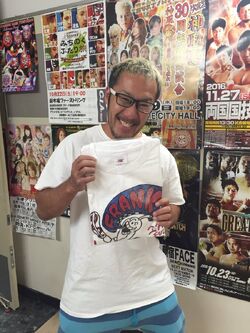 Birth name
Atsushi Ohashi
Born
January 29 1980
Kawaguchi, Saitama, Japan
Professional wrestling career
Ring name(s)
Frank Atsushi
Atsushi Ohashi
Akkun Ohashi, Atsu-kun Ohashi
Aussie
Fake Vince McMahon Jr
Hisao Jr.
Jack Do Atsushinu
Jacques de Atsushinu
Lennox Ohashi
Ohashi
Second Generation
Toru Owashi
Toru Owashi #2
Yokohama Uncle Frank
Height
1.62 m (5 ft 4 in)
Weight
70 kg (150 lb)
Trained By
BJW Dojo
Debut
2005 (as refree)
May 20, 2007 (as professonal wrestler)
Retired
August 16, 2016
Atsushi Ohashi (大橋 篤, born May 25, 1991), better known by his ring name Frank Atsushi, is a retired Japanese professional wrestler and He is currently signed to Big Japan Pro Wrestling where is part of the staff.
In wrestling
Edit
Finishing moves

Ousi Suplex
Korubata
Dropkick
Swinging DDT

Entrance Music

Surfrider Association by ELLEGARDEN
Scream by Big Japan Pro Wrestling
Championships and accomplishments
Edit
Ad blocker interference detected!
Wikia is a free-to-use site that makes money from advertising. We have a modified experience for viewers using ad blockers

Wikia is not accessible if you've made further modifications. Remove the custom ad blocker rule(s) and the page will load as expected.