Ganseki Tanaka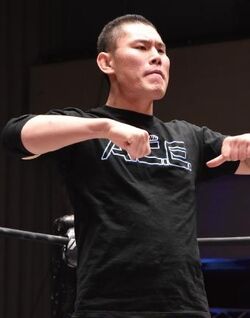 Birth name
Takafumi Tanaka
Born
October 3 1993
Saitama, Japan
Professional wrestling career
Ring name(s)
Ganseki Tanaka
Takafumi Tanaka
Height
1.77 m (5 ft 10 in)
Weight
83 kg (183 lb)
Trained By
Wrestle-1 Dojo
Debut
September 27, 2016
Takafumi Tanaka (田中太嘉文, Tanaka Takafumi, born September 20, 1993), is a Japanese professional wrestler who works currently for Wrestle-1 on thier sub-promotion Pro Wrestling A.C.E under the ring name of Ganseki Tanaka (伊藤貴則, Tanaka Ganseki). Tanaka is a former UWA World Trios Champion.
Professional wrestling career
Edit
On September 27, 2016 Tanaka made his wrestling debut losing to Daisuke. On November 12 it was announced that Tanaka will be joining his rookie mates to Pro Wrestling A.C.E. On December 5 he started to wrestle under new ring name of Ganseki (means rock in Japanesse) but he didnt wrestle the rest of the year due to injury during his traning.In 2017 he participated in the tournament to crown the first Wrestle-1 Result Championship he defeated Kohei Fujimura in the first round but he lost in the semifinals to Koji Doi.
On June 18 Tanaka won his first professional wrestling championship, when he Manabu Soya and Nosawa Rongai defeated Jiro Kuroshio, Kumagoro and Jay Freddie to win the UWA World Trios Championship. They lost the titles on September 18 to Jiro Kuroshio, Koji Doi and Kumagoro.
In wrestling
Edit
Finishing moves

Ganseki Otoshi (Diving headbutt drop)

Signature moves

Backdrop
Double arm suplex
Elbow Smash
Headbutt
Championships and accomplishments
Edit
Ad blocker interference detected!
Wikia is a free-to-use site that makes money from advertising. We have a modified experience for viewers using ad blockers

Wikia is not accessible if you've made further modifications. Remove the custom ad blocker rule(s) and the page will load as expected.