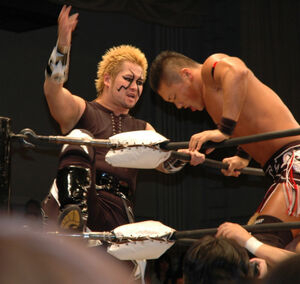 The Iwasa Gundam Road to Formation is a fifteen-match trial series Takamichi Iwasa undertook in Toryumon Japan from July 2003 through October 2003.
In 2003 2003, Takamichi Iwasa was looking to align himself into a unit. For several months, it seemed that he would be taken in by Crazy MAX, as they ran him through a "Takamichi Iwasa Strengthening Campaign" for several months. When the time came for them to announce their newest recruit, they kicked Iwasa to the curve and instead chose Jun Ogawauchi. Following this betrayal, Iwasa decided to take matters into his own hands and form his own unit, which would be called Iwasa Gundam.
He quickly recruited Raimu Mishima, who had just been kicked out of Shin M2K for being terrible. The two set out to recruit more members, with Anthony W. Mori as one of their primary targets. However, they were stopped short when the Toryumon Japan office refused to recognize the group as an official unit. The duo appealed to President Takashi Okamura, who finally agreed to recognize them if Iwasa could win just a single match out of a fifteen-match series.
The task turned out to be a nightmare for the duo, in particular Iwasa. He had suddenly developed a crippling weakness to the Camel Clutch and all of his opponents in the series would lock him in the submission hold to win. While Iwasa never actually surrendered while in the move, he still lost as a result of Mishima throwing in the towel. The match against Stalker Ichikawa was considered the best chance Iwasa had at scoring the one win he needed. He had locked Ichikawa in the Camel Clutch and was about to win when disaster struck. In his excitement, Mishima accidentally dropped the towel in the ring, thereby making Ichikawa the winner by TKO.
In the final match, Iwasa faced Mishima himself, who was competing with a broken arm. In the end, Mishima locked Iwasa in the Camcel Clutch and he was forced to surrender. Because Iwasa did not win a match, Iwasa Gundam would never see the light of day as an official unit. Both when head to the United States for "warrior training." When they returned, they claimed to have found their true American heritage. Takamichi Iwasa became Michael and Raimu Mishima became Daniel. For the next few years, they would be known as The Florida Brothers.
#
Opponent
Date
Location
Result
Note
1
SUWA
July 25, 2003
Funabashi, Chiba
SUWA in 2:43
Camel Clutch ~ Towel Throw TKO
2
Magnum Tokyo
July 27, 2003
Yamaguchi
TOKYO in 3:16
Camel Clutch ~ Towel Throw TKO
3
CIMA
July 29, 2003
Kobe, Hyogo
CIMA in 4:20
Camel Clutch ~ Towel Throw TKO
4
Masaaki Mochizuki
August 2, 2003
Sagamihara, Kanagawa
Mochizuki in 3:18
Camel Clutch ~ Towel Throw TKO
5
Kenichiro Arai
August 9, 2003
Sapporo, Hokkaido
Arai in 4:05
Camel Clutch ~ Towel Throw TKO
6
Takashi Okamura
August 10, 2003
Sapporo, Hokkaido
Okamura in 4:42
Camel Clutch ~ Towel Throw TKO
7
Milano Collection AT
August 23, 2003
Chiba
Milano in 4:52
Camel Clutch ~ Towel Throw TKO
8
Stalker Ichikawa
August 30, 2003
Tokyo
Ichikawa in 4:00
Camel Clutch ~ Towel Throw TKO
9
Toru Owashi
August 31, 2003
Hachioji, Tokyo
Owashi in 4:58
Camel Clutch ~ Towel Throw TKO
10
Don Fujii
September 5, 2003
Hiroshima
Fujii in 2:14
Camel Clutch ~ Towel Throw TKO
11
Susumu Yokosuka
September 14, 2003
Shizuoka
Yokosuka in 3:46
Camel Clutch ~ Towel Throw TKO
12
BATAyan
September 17, 2003
Ube, Yamaguchi
BATAyan in 3:57
Camel Clutch ~ Towel Throw TKO
13
K-ness
September 19, 2003
Hyogo
K-ness. in 2:40
Camel Clutch ~ Towel Throw TKO
14
TARU
September 22, 2003
Kobe, Hyogo
TARU in 4:05
Camel Clutch ~ Towel Throw TKO
15
Raimu Mishima
October 5, 2003
Miyagi
Mishima in 4:59
Camel Clutch