KO-D Openweight Championship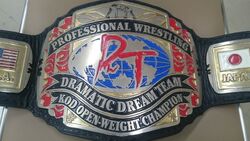 Details
The KO-D Openweight Championship is the top singles championship in DDT Pro-Wrestling (DDT) promotion. "KO-D" is the acronym of DDT's governing body, the King of DDT. The title was introduced on April 19, 2000, after Masao Orihara defeated Sanshiro Takagi to become the first champion.
Throughout the history of the championship, the title was vancated twice. The first time was after Nosawa was stripped of the title by the DDT Commissioner for not being appropriate as a champion. The second time was when Dick Togo suffered a tailbone injury. Antonio Honda then became the provisional champion. Togo then defeated Hondo in a unification match to become the undisputed champion. When the title was first created, all title matches had no time limit established but DDT eventually changed the rule over to a more traditional 60 minute time limit.
Overall, there have been 62 reigns shared among 30 wrestlers. Title changes happen at DDT-promoted events. Two non-Japanese wrestlers have held the title. The inaugural champion was Masao Orihara winning the title on April 19, 2000. Over his 9 reigns, HARASHIMA successfully defended the title 28 times, the most of any champion. The youngest champion is Konosuke Takeshita with 22 years old and he his the only champion with most successfull title defenses that were 12 and he his the longest reigning champion with 405 days.
Title History
Edit
#
Wrestler
Reign
Date
Location
Length
Defenses
Sucessfull Defenses
Event
Notes
1
Masao Orihara
1
April 19, 2000
Tokyo
98 Days
0
Live Event
Defeated Sanshiro Takagi to become the first champion.
2
Koichiro Kimura
1
July 26, 2000
Tokyo
77 Days
1
1. defeated Yuki Nishino on August 4, 2000
Live Event
3
Poison Sawada Julie
1
October 11, 2000
Tokyo
64 Days
1
1. defeated Sanshiro Takagi on October 12, 2000
Live Event
4
Sanshiro Takagi
1
December 14, 2000
Osaka
104 Days
2
1. defeated MIKAMI, Tanomusaku Toba and Osamu Tachihikari on February 1, 2001
2. defeated MIKAMI on February 8, 2001
Never Mind 

(2000)

Defeated Poison Sawada Julie, Tomohiko Hashimoto and Super Uchuu Power in a four-way mach.
5
Exciting Yoshida
1
March 28, 2001
Tokyo
93 Days
2
1. defeated MIKAMI on March 23, 2001
X. vs Super Uchu Power on June 21, 2001
Judgement 5
6
Nosawa
1
June 29, 2001
Tokyo
146 Days
0
No Reason, No Future
Nosawa won a three-way match also including Super Uchuu Power.
—
Vacated
—
N/A
—
N/A
—
—
—
Nosawa was stripped of the title by the DDT Commissioner for "not being appropriate as a champion.
7
Super Uchuu Power
2
November 30, 2001
Tokyo
57 Days
1
1. defeated Poison Sawada Julie on December 12, 2001
DDT My love
Defeated Poison Sawada Julie and Sanshiro Takagi in a three-way match to become the new champion. Power was formerley known as Koiichiro Kimura.
8
MIKAMI
1
January 26, 2002
Tokyo
11 Days
1
1. defeated Super Uchuu Power on January 31, 2002
Dark Hourse 2002
Mikami with Takashi Sasaki won a triple title match defeating reigning champion Super Uchuu Power and Ironman Heavymetalweight champion Asian Cooger and retaining their KO-D Tag Team Championship.
9
Super Uchuu Power
2
February 6, 2002
Tokyo
86 Days
0
Non-Fix 2/6 
10
Sanshiro Takagi
2
May 3, 2002
Tokyo
28 Days
0
Turning Point

(2002)

This match was also contested for Takagi's Ironman Heavymetalweight Championship.
11
Kintaro Kanemura
1
May 31, 2002
Tokyo
99 Days
1
1. defeated Gentaro on June 6, 2002
Max Bump (2002) 
This match was also contested for Ironman Heavymetalweight Championship.
12
Sanshiro Takagi
3
September 7, 2002
Chiba
83 Days
1
1. defeated Fake Joanie Laurer and Futoshi Miwa, Gentaro, Hebikage, HERO!, Issei Fujisawa, Hulk Ichimiya, MIKAMI, Osamu Tachihikari and Poison Sawada Julie and Toguro Habukage, Shoichi Ichimiya, Showa and Super Uchuu Power, Takashi Sasaki, Tanomusaku Toba, Tomohiko Hashimoto and Yoshihiro Sakai on September 20, 2002
The Ring
13
GENTARO
1
November 29, 2002
Tokyo
23 Days
0
God Bless DDT
14
MIKAMI
2
December 22, 2002
Tokyo
208 Days
2
1. defeated Shoichi Ichimiya on January 4, 2003
2. defeated Kurokage on January 31, 2003
Never Mind (2002)
Defeated GENTARO, Tomohiko Hashimoto and Sanshiro Takagi in a four-way match.
15
Takashi Sasaki
1
July 18, 2003
Tokyo
100

Days

2
1. defeated Tomohiko Hashimoto on August 23, 2003
2. defeated Kudo on September 14, 2003
Audience (2003)
16
Shoichi Ichimiya
1
October 26, 2003
Tokyo
108 Days
0
Dead or Alive (2003)
This was a chain deathmatch.
17
Poison Sawada Julie
1
February 11, 2004
Tokyo
196 Days
4
1. defeated Danshoku Dino on February 11, 2004
2. defeated MIKAMI on February 29, 2004
3. defeated HERO! on April 18, 2004
4. defeated Kuma Sentoin on August 15, 2004
Future Port (2004)
Defeated Shoichi Ichimiya, Sanshiro Takagi and Ironman Heavymetalweight Champion Danshoku Dino in a four-way no DQ match to win both titles.
18
MIKAMI
3
November 2, 2004
Tokyo
89 Days
1
1. defeated Riki Sensyu on December 12, 2004
Day Dream Believer (2004)
19
Dick Togo
1
January 30, 2005
Tokyo
94 Days
2
1. defeated Sanshiro Takagi on February 25, 2005
2. defeated Yusuke Inokuma on March 27, 2005
Into The Fight (2005)
20
Sanshiro Takagi
4
May 4, 2005
Tokyo
172 Days
1
1. defeated Kudo on June 29, 2005
Max Bump (2005)
21
Danshoku Dino
1
October 23, 2005
Tokyo
191 Days
1
1. defeated Francesco Togo, Super Uchuu Power, Antonio Honda and Sanshiro Takagi on December 28, 2005
Day Dream Believer (2005)
22
Toru Owashi
1
May 2, 2006
Tokyo
241 Days
2
1. defeated Poison Sawada Julie on June 25, 2006
2. defeated Kudo on August 27, 2006
King of DDT (2006)
23
HARASHIMA
1
December 29, 2006
Tokyo
186

Days

3
1. defeated Daichi Kakimoto on January 28, 2007
2. defeated Danshoku Dino on February 25, 2007
3. defeated Sanshiro Takagi on April, 1 2007
Never Mind (2006)
24
Koo
1
July 3, 2007
Tokyo
110

Days

2
1. defeated Kudo on July 1, 2007
2. defeated HARASHIMA, Seiya Morohashi and Danshoku Dino on August 5, 2007
Dramatic Style (2007)
25
HARASHIMA
2
October 21, 2007
Tokyo
198 Days
2
1. defeated MIKAMI on November 27, 2007
2. defeated Yasu Urano on March 9, 2008
Day Dream Believer (2007)
26
Dick Togo
2
May 6, 2008
Tokyo
145 Days
2
1. defeated Seiya Morohashi on July 6, 2008
2. defeated Kota Ibushi on August 31, 2008
Max Bump (2008)
27
Sanshiro Takagi
5
September 28, 2008
Tokyo
218 Days
5
1. defeated Danshoku Dino on October 26, 2008
2. defeated Shuji Ishikawa on November 11, 2008
3. defeated HARASHIMA on December 28, 2008
4. defeated Kota Ibushi on February 22, 2009
5. defeated Hikaru Sato on March 15, 2009
Who's gonna top?

(2008)

This match was also contested for Takagi's DDT Extreme Division Championship and the match was a steel cage deathmatch.
28
HARASHIMA
3
May 4, 2009
Tokyo
111 Days
2
1. defeated Kudo on May 31, 2009
2. defeated Yoshiaki Yago on July 19, 2009
Max Bump (2009)
29
Kota Ibushi
1
August 23, 2009
Tokyo
98 Days
2
1. defeated MIKAMI on September 29, 2009
2. defeated Yoshihiko on October 25, 2009
Ryogoku Peter Pan

(2009)

30
Shuji Ishikawa
2
November 29, 2009
Tokyo
91 Days
4
1. defeated Isami Kodaka on December 16, 2009
2. defeated HARASHIMA on December 27, 2009
3. defeated Yoshihito Sasaki on January 24, 2010
4. defeated Danshoku Dino on February 11, 2010
DDT Special (2009)
Ishikawa was formel known as Koo.
31
Daisuke Sekimoto
1
February 28, 2010
Tokyo
147 Days
4
1. defeated Sanshiro Takagi on March 14, 2010
2. defeated Masa Takanashi on April 4, 2010
3. defeated Kota Ibushi on May 4, 2010
4. defeated Shuji Ishikawa on June 13, 2010

Union Pro live event
32
HARASHIMA
4
July 25, 2010
Tokyo
112 Days
2
1. defeated Daisuke Sasaki on August 29, 2010
2. defeated Danshoku Dino on October 24, 2010
Ryogoku Peter Pan (2010)
33
Hikaru Sato
1
November 14, 2010
Tokyo
14 Days
0
Osaka Bay Blues Special
34
Dick Togo
3
November 28, 2010
Tokyo
31 Days
0
God Bless DDT (2010)
—
Vacated
—
December 26, 2010
—
N/A
—
—
—
Vacated due to Togo suffering a tailbone injury.
—
Antonio Honda

Provisional

December 26, 2010
Tokyo
37

Days

0
Never Mind (2010)
Defeated GENTARO to become the provisional champion.
35
Dick Togo
4
January 30, 2011
Tokyo
95 Days
2
1. defeated HARASHIMA on February 27, 2011
2. defeated Kota Ibushi on March 27, 2011
Sweat Dreams (2010)
36
Shuji Ishikawa
3
May 4, 2011
Tokyo
81 Days
2
1. defeated Gentaro on June 19, 2011
2. defeated Soma Takao on June 19, 2011
Max Bump (2011)
37
Kudo
1
July 24, 2011
Tokyo
189 Days
5
1. defeated Keisuke Ishii on August 28, 2011
2. defeated Hikaru Sato on October 23, 2011
3. defeated Masa Takanashi on November 6, 2011
4. defeated HARASHIMA November 27, 2011
5. defeated MIKAMI on December 31, 2011
Ryogoku Peter Pan (2011)
38
Danshoku Dino
2
January 29, 2012
Tokyo
63 Days
2
1. defeated Antonio Honda on February 19, 2012
2. defeated Hikaru Sato on March 11, 2012
Sweet Dreams! (2012)
39
Sanshiro Takagi
6
April 1, 2012
Tokyo
0

Days

0
April Fool (2012)
40
Masa Takanashi
1
April 1, 2012
Tokyo
33 Days
0
April Fool (2012)
Takanashi cashed in his "Right to Challenge Anytime Anywhere" contract.
41
Yuji Hino
1
May 4, 2012
Tokyo
51 Days
1
1. defeated HARASHIMA on May 27, 2012
Max Bump (2012)
42
Kota Ibushi
2
June 24, 2012
Tokyo
98 Days
2
1. defeated DJ Nira on July 29, 2012
2. defeated Kenny Omega on August 18, 2012
What Are You Doing (2012)
43
El Generico
1
September 30, 2012
Tokyo
84 Days
3
1. defeated El Ligero on October 13, 2012
2. defeated Kota Ibushi on October 21, 2012
3. defeated MIKAMI on November 25, 2012
Who's Gonna Top? (2012)
44
Kenny Omega
1
December 23, 2012
Tokyo
87 Days
3
1. defeated Isami Kodaka on January 27, 2013
2. defeated HARASHIMA on February 17, 2013
23. defeated Michael Nakazawa on February 28, 2013
Never Mind (2012)
45
Shigehiro Irie
1
March 20, 2013
Tokyo
151 Days
8
1. defeated Makoto Oishi on March 31, 2013
2. defeated Yukio Sakaguchi on April 13, 2013
3. defeated Kota Ibushi on May 3, 2013
4. defeated Hikaru Sato on May 26, 2013
5. defeated Keisuke Ishii on June 23, 2013
6. defeated Daisuke Sasaki on June 23, 2013
7. defeated Sanshiro Takagi on July 6, 2013
8. defeated Yuji Okabayashi on July 21, 2013
Judgement (2013)
46
HARASHIMA
5
August 18, 2013
Tokyo
215 Days
6
1. defeated Yasu Urano on Septmerber 29, 2013
2. defeated Danshoku Dino on October 20, 2013
3. defeated Antonio Honda on November 4, 2013
4. defeated Yukio Sakguchi on December 20, 2013
5. defeated Shigehiro Irie on January 26, 2014
6. defeated Masa Takanashi on February 23, 2014
Ryogoku Peter Pan (2013) 
47
Kudo
2
March 21, 2014
Tokyo
65 Days
2
1. defeated Akito on April 29, 2014
2. defeated Yasu Urano on April 29, 2014
Judgement (2014)
48
HARASHIMA
6
May 25, 2014
Nagoya
266 Days
7
1. defeated Super Sasadango Machine on June 26, 2014
X. vs. Kenny Omega ended in a Double KO on July 20, 2014
3. defeated Kenny Omega and Isami Kodaka on August 17, 2014
4. defeated Keisuke Ishii on September 13, 2014
5. defeated Isami Kodaka on October 26, 2014
6. defeated Soma Takao on November 30, 2014
7. defeated Shigehiro Irie on December 23, 2014
Friendship, Effort, Victory!

(2014)

49
Kota Ibushi
3
February 15, 2015
Saitama
73 Days
1
1. defeated Yoshihiko on March 21, 2015
Saitama Super DDT (2015)
50
HARASHIMA
7
April 29, 2015
Tokyo
32 Days
1
1. defeated Kazusada Higuchi on May 24, 2015
Max Bump (2015)
51
Kudo
3
May 31, 2015
Tokyo
28

Days

0
Audience (2015)
52
Ken Ohka
1
June 28, 2015
Tokyo
0

Days

0
King Of DDT (2015) Tokyo 
This was a three-way match, also involving Yasu Urano. Both Ohka and Urano cashed in their "Right to Challenge Anytime, Anywhere" contracts.
53
Kudo
4
June 28, 2015
Tokyo
56

Days

0
King Of DDT (2015) Tokyo 
Kudo cashed in his "Right to Challenge Anytime Anywhere" contract.
54
Yukio Sakaguchi
1
August 23, 2015
Tokyo
97

Days

2
1. defeated Kudo on September 27, 2015
2. defeated HARASHIMA on October 25, 2015
Ryogoku Peter Pan (2015)
55
Isami Kodaka
1
November 28, 2015
Osaka
114

Days

3
1. defeated Tetsuya Endo on December 13, 2015
2. defeated Konosuke Takeshita on January 3, 2016
3. defeated Masa Takanashi on January 31, 2016
Osaka Octopus (2015)
56
HARASHIMA
8
March 21, 2016
Tokyo
34

Days

2
1. defeated Ken Ohka on March 26, 2016
2. defeated Kazusada Higuchi on April 26, 2016
Judgement (2016)
57
Daisuke Sasaki
1
April 24, 2016
Tokyo
35

Days

1
1. defeated Yukio Sakaguchi on May 8, 2016
Max Bump (2016)
Sasaki cashed in his "Right to Challenge Anytime Anywhere" contract.
58
Konosuke Takeshita
1
May 29, 2016
Tokyo
91

Days

3
1. defeated Yuko Miyamoto on July 3, 2016
2. defeated Tetsuya Endo on July 17, 2016
3. defeated Toru Owashi on August 8, 2016
Audience (2016)
59
Shuji Ishikawa
4
August 28, 2016
Tokyo
98

Days

2
1. defeated Kazusada Higuchi on September 25, 2016
2. defeated Danshoku Dino on October 23, 2016
Ryogoku Peter Pan (2016)
60
HARASHIMA
9
December 4, 2016
Osaka
106

Days

3
1. defeated Shigehiro Irie on December 4, 2016
2. defeated Mike Bailey on January 3, 2017
3. defeated Daisuke Sasaki on January 29, 2017
Osaka Octopus (2016)
61
Konosuke Takeshita
2
March 20, 2017
Saitama
405

Days

11
1. defeated Akito on April 8, 2017
X. vs. Tetsuya Endo ended in a Time Limit Draw on April 29, 2017
3. defeated Yasu Urano on May 28, 2017
4. defeated Mike Bailey on July 2, 2017
5. defeated Keisuke Ishii on July 23, 2017
6. defeated Naomi Yoshimura on July 23, 2017
7. defeated Tetsuya Endo on August 20, 2017
8. defeated Daisuke Sasaki and Ken Ohka on September 24, 2017
9. defeated Danshoku Dino on October 22, 2017
10. defeated Colt Cabana on December 24, 2017
11. defeated Shuji Ishikawa on March 25, 2018
Judgement (2017)
62
Shigehiro Irie
2
April 29, 2018
Tokyo
84+
3
1. defeated Keisuke Ishii on April 20, 20186
2. defeated HARASHIMA on July 22, 2018
3. defeated Sammy Guevara on July 22, 2018
Max Bump (2018)
List of combined reigns
Edit
| | |
| --- | --- |
| † | Indicates the current champions |