Kazumi Kikuta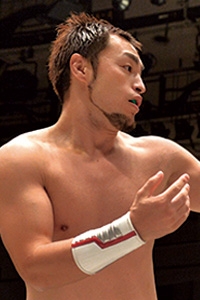 Born
March 1 1986
Hiranai, Aomori, Japan
Professional wrestling career
Ring name(s)
Kazumi Kikuta
Height
1.80 m (5 ft 11 in)
Weight
90 kg (200 lb)
Trained By
BJW Dojo
Debut
March 25, 2015
Kazumi Kikuta (野村 卓矢, Kikuta, Kazumi?, born March 1, 1986) is a Japanese professional wrestler trained by and signed to Big Japan Pro Wrestling (BJW).
Professional wrestling career
Edit
In 2014 Kikuta entered in the BJW Dojo he was scheduled to debut against Yoshihisa Uto but he didn't made due to injuries. He made his debut on April 30 losing to Yuji Okabayashi.
In wrestling
Edit
Finishing moves

Fisherman's Suplex
Dropkick
Ad blocker interference detected!
Wikia is a free-to-use site that makes money from advertising. We have a modified experience for viewers using ad blockers

Wikia is not accessible if you've made further modifications. Remove the custom ad blocker rule(s) and the page will load as expected.