Michiyoshi Ohara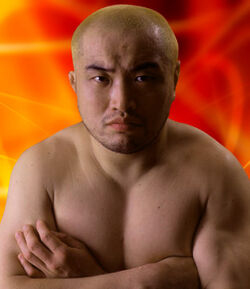 {{{caption}}}
Professional wrestling career
Height
177 centimeters (5 ft 9 in.)
Weight
105 kilograms (231 lbs.)
Debut
June 30, 1990
Michiyoshi Ohara (小原道由)is a Japanese professional wrestler and mixed martial artist, best known for his work in New Japan Pro Wrestling where he wrestled from 1990 to 2004 where he enjoyed success winning the IWGP Tag Team Championship with Tatsutoshi Goto in 1999.
Professional wrestling career
Edit
New Japan Pro Wrestling (1990-2004)
Edit
The former captain of the Kokushikan University's judo team, Michiyoshi Ohara debuted for New Japan Pro Wrestling in June 1990, against Osamu Matsuda. In December 1991, Ohara won the Young Lion Cup. In the summer of 1992, he wrestled in Europe for Otto Wanz's Catch Wrestling Association, under the name Fuji Yamaha. In 1993, he joined Shiro Koshinaka's Heisei Ishingun. After joining the group, he formed a tag team with Tatsutoshi Goto, which lasted past Heisei Ishingun's disbandment in 1999. In the mid-1990s, Ohara had one-off matches for other promotions like WAR and Pro Wrestling Fujiwara Gumi. In January 1998, Ohara had a brief stint in World Championship Wrestling, usually on the losing end. After 14 years with the company, Ohara's contract was not renewed in 2004.
Freelance (2004-2008)
Edit
After leaving New Japan in 2004, Ohara mainly wrestled as a freelancer. In 2007, he joined Antonio Inoki's new promotion, Inoki Genome Federation. In 2008, he retired due to injuries suffered in a car accident.
In wrestling
Edit
Chokeslam
Guillotine choke
Powerbomb, with theatrics
Elbow drop
Lariat takedown
Suisha Otoshi (Double leg back body drop)
"Erotic Nightmares" by Steve Vai (1990–1992)
"Jungle Night" (1992–1994)
"Stupid Question" (1994–1996)
"Mr. BD" (1994–2008; used teaming with Tatsutoshi Goto)
"Kimigayo (Club Mix)" (2002–2004)
Championships and accomplishments
Edit