Mr. Gannosuke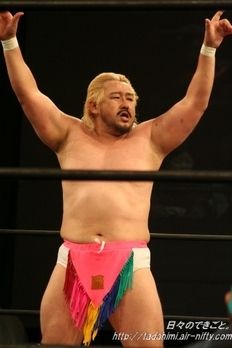 Born
June 20 1968
Nagasaki-shi, Nagasaki, Japan
Professional wrestling career
Ring name(s)
Mr. Gannosuke
Hayabusa
Masashi Honda
Riki Ganshu
Height
1.78 m (5 ft 10 in)
Weight
100 kg (220 lb)
Trained By
Takashi Ishikawa
Tarzan Goto
Debut
November 2, 1987[1]
  Masashi Honda (本田雅史, Honda Masashi) is a Japanese professional wrestler better known as Mr. Gannosuke, who competed primarily for Atsushi Onita's Frontier Martial-Arts Wrestling promotion. He also held the NWA World Tag Team Championship.
Professional wrestling career
Edit
Early years (1987–1991)
Edit
Masashi Honda made his professional wrestling debut at a small independent show on November 2, 1987, teaming with Eiji Ezaki against three upper classmen. They would cut their teeth in the small indy shows for four years, before applying for the upstart promotion Frontier Martial Arts Wrestling.
Frontier Martial-Arts Wrestling (1991–1995)
Edit
In February 1991, Ezaki and Honda joined the FMW Dojo, where they were trained by Tarzan Goto. Honda made his debut for FMW in June 1991 against Akihito Ichihara. He and Ezaki wrestled as a tag team and against each other on the cards, until Onita saw potential in Honda. Onita gave him the name Mr. Gannosuke, after actor Ashiya Gannosuke.
With a new name, Mr. Gannosuke moved up to the upper mid-card, with the occasional main event status. In main events, Gannosuke would team up with Atsushi Onita in numerous tag team death matches. In February 1995, Gannosuke won his first championship, the FMW Brass Knuckles Tag Team Championship with Onita, defeating Mr. Pogo and The Gladiator. Their reign was short-lived, as they lost the belts two months later back to Mr. Pogo and his new partner, Yukihiro Kanemura. On April 23, 1995, however, Gannosuke, along with Tarzan Goto and Flying Kid Ichihara, announced that they were leaving FMW.
International Wrestling Association of Japan (1995–1996)
Edit
Upon his arrival in International Wrestling Association of Japan in May 1995, Mr. Gannosuke was heavily pushed alongside Tarzan Goto and Flying Kid Ichihara as the top villains, as the stable, Shin-FMW. Gannosuke also aligned himself with Terry Gordy.
In August 1995, Gannosuke took part in the IWA King Of The Deathmatch tournament, losing to Tiger Jeet Singh in a Barbed Wire Chain Death match in the first round. Two months later, he teamed with Tarzan Goto to win the IWA World Tag Team Championship, defeating Cactus Jack and Tracy Smothers. Another two months later, Gannosuke and Goto won their second set of tag team gold in the NWA World Tag Team Championship, defeating Cactus Jack and Tiger Jeet Singh, despite having a bye to the finals. Despite holding two sets of tag team titles, IWA Japan lost tons of money and suspended operations. In October 1996, Shin-FMW left, forcing Gannosuke and Goto to vacate both the IWA and NWA World Tag Team titles, although they wrestled their last match for the promotion in November 1996.
Tokyo Pro Wrestling (1996–1997)
Edit
Mr. Gannosuke, along with Goto and Ichihara ended up in Tokyo Pro Wrestling, but by December 1996, it went out of business.
Frontier Martial-Arts Wrestling (1997–2002)
Edit
In January 1997, Mr. Gannosuke and Ichihara returned to FMW, confronting Hayabusa, upset that Hayabusa did not leave FMW with him. They joined Terry Funk's Funk Masters of Wrestling stable. In February 1997, he wrestled his first match back, teaming with Hisakatsu Oya to defeat Hayabusa and Ricky Fuji. Gannosuke went on a vicious streak, defeating other wrestlers and calling them victories over Hayabusa. In April 1997, Hayabusa and Gannosuke finally wrestled one-on-one in a mask vs. hair match. Despite Hayabusa winning the match, Hayabusa did not want to cut Gannosuke's hair, instead he wanted to shake hands and be friends again. Instead, Gannosuke attacked him and ripped off his mask, before Jinsei Shinzaki made the save.
In August 1997, Gannosuke won the FMW World Street Fight 6-Man Tag Team Championship with Oya and The Gladiator, defeating Fuyuki-Gun (Kodo Fuyuki, Jado, and Gedo) in a tournament final. Two weeks later, Gannosuke and Oya won the FMW Brass Knuckles Tag Team Championship, defeating W*ING Kanemura and Bad Boy Hido. By the end of the month, Gannosuke lost the 6-Man Tag Team title to Hayabusa, Masato Tanaka, and Koji Nakagawa. By October, Gannosuke had joined ZEN, led by Atsushi Onita. Within weeks, however, Gannosuke and Kanemura were arguing with Onita. In November 1997, Gannosuke and Kanemura won back the FMW Brass Knuckles Tag Team Championship that Onita and Kanemura vacated. In December 1997, Gannosuke, Kanemura, and Hido broke away from ZEN to form their own group, alongside Miss Mongol.
In January 1998, Gannosuke defeated Masato Tanaka to win the FMW Double Title. A day later, Gannosuke's group and Fuyuki-Gun merged to form Team No Respect, with Gannosuke as their leader. In March 1998, he and Kanemura lost the Brass Knuckles Tag Team title to Kodo Fuyuki and Bad Boy Hido. By the end of April 1998, Gannosuke lost the Double Title to Hayabusa. During the match, Gannosuke dislocated his knee, which required reconstructive surgery and to be out of action for six months. Kodo Fuyuki took over as leader of Team No Respect.
Gannosuke made his in-ring return in November 1998, defeating Tetsuhiro Kuroda. He won the Over The Top tournament, defeating Koji Nakagawa, Yukihiro Kanemura, Bad Boy Hido, and Hisakatsu Oya to become the number one contender to the Double title, now held by Kodo Fuyuki. Gannosuke formed Gannosuke's Outlaws with Hideki Hosaka and Super Leather. His title shot occurred in March 1999, losing to Fuyuki; it would be his final shot at the title.
In May 1999, Gannosuke rejoined Team No Respect, disbanding Gannosuke's Outlaws. He was given the FMW Independent Heavyweight Championship by Kodo Fuyuki, who was splitting the Double Title. He lostthe title in August 1999 to Masato Tanaka. Five days later, he challenged Hayabusa for the FMW Brass Knuckles Heavyweight Championship in Hayabusa's final match under the persona, which Gannosuke lost. Two days later, Hayabusa, now known as H, supposedly injured Gannosuke in a match, causing him to be out of action for a while. In September, a major swerve occurred when Gannosuke returned as "Hayabusa." Hayabusa and H were involved in a feud for much of 1999, which ended in November in a match, where Shawn Michaels was the special referee. After the match, H and Gannosuke embraced. In December, H and Gannosuke won the WEW Tag Team Championship, defeating Tetsuhiro Kuroda and Hisakatsu Oya. In February 2000, H and Gannosuke lost the title to Kodo Fuyuki and Kyoko Inoue. In May 2000, Gannosuke betrayed H and joined Shin-Fuyuki-Gun. Gannosuke, however, started to question Shoichi Arai about FMW's direction. After clotheslining Arai, he was (kayfabe) fired. In November 2000, he lost to Tetsuhiro Kuroda, which caused him to (kayfabe) retire from wrestling (in reality, he was taking time off for the birth of his daughter).
In April 2001, Gannosuke made his full-fledged return, aligning himself with Tetsuhiro Kuroda in his feud with Hayabusa and The Great Sasuke, which culminated on May 5 in an Exploding Octagon Cage Death match, which he lost. In June 2001, he realigned with Kodo Fuyuki in his feud with Shoichi Arai and Hayabusa. In July 2001, Gannosuke, Fuyuki, and Kintaro Kanemura defeated Ricky Fuji, Hisakatsu Oya, and Flying Kid Ichihara to win the WEW 6-Man Tag Team Championship. Two months later, he and Mammoth Sasaki won the WEW Tag Team Championship, defeating GOEMON and Onryo. The same month, Gannosuke, Fuyuki, and Kanemura lost the 6-Man Tag Team title to Hayabusa, Kuroda, and GOEMON.
Tragedy struck in FMW in October 2001, as Gannosuke's closest friend and rival, Hayabusa, suffered a career-ending neck injury in a match against Mammoth Sasaki. In January 2002, Gannosuke injured both his ankles in a six-man tag team match, causing him to be out of action as well. With Hayabusa and Gannosuke out of action and millions of dollars in debt, FMW shut down in February 2002.
Later career (2002–present)
Edit
Between August 2002 and December 2008, Mr. Gannosuke wrestled for several promotions, including Wrestling Marvelous Future, Apache Pro-Wrestling, Fuyuki Army, Pro Wrestling ZERO-ONE, All Japan Pro Wrestling, Fighting World of Japan Pro Wrestling, Kings Road, Dradition, Ice Ribbon, DDT, and his own promotion. He wrestled his final match on December 27, 2008, teaming with Jinsei Shinzaki and Mammoth Sasaki to defeat Masato Tanaka, Kintaro Kanemura, and Tetsuhiro Kuroda when he pinned Kanemura.
Gannosuke now promotes shows under his own name about every four months and is a trainer for Emi Sakura's Ice Ribbon promotion. He also runs his bar called "NOV Bar" every night.
On September 6, 2014, it was announced that Gannosuke would be returning to the ring at a Guts World event on October 12.
In wrestling
Edit
Lariat[2]
Over the shoulder back to belly piledriver, sometimes from the top rope
Powerbomb, sometimes while using only one shoulder
Sitout suplex slam
Swinging neckbreaker
"Kishindoh" by FMW Productions
Championships and accomplishments
Edit
National Wrestling Alliance
NWA World Tag Team Championship (1 time) – with Tarzan Goto
References
Edit
Ad blocker interference detected!
Wikia is a free-to-use site that makes money from advertising. We have a modified experience for viewers using ad blockers

Wikia is not accessible if you've made further modifications. Remove the custom ad blocker rule(s) and the page will load as expected.