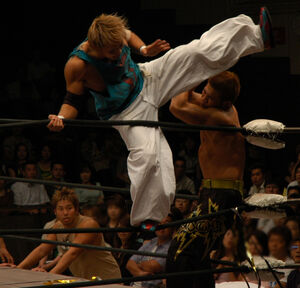 The Naoki Tanizaki Road to Do FIXER is a ten-match trial series with five bonus matches Naoki Tanizaki undertook in Dragon Gate from July 2004 through August 2004.
Being the only member from the Toryumon X group to be brought into Toryumon Japan, and subsequently Dragon Gate, Naoki Tanizaki aligned himself with Genki Horiguchi, who shared a passion for surfing. Horiguchi was a member of the Do FIXER unit, thus making Tanizaki initially a member by association. However, DF leader Magnum Tokyo was not generally impressed with Tanizaki, telling him flat out that he was not a member. Tanzaki pressed to be allowed in, until Magnum finally agreed so long as Tanizaki was victorious in one single match in a ten match series.
After facing Magnum himself in the first match, Tanizaki took on a murderer's row of opponents. His one chance at victory came in the series finale against perennial loser Shogo Takagi. Yet Magnum interfered to ensure Tanizaki lost. Tanizaki appealed for an extension and Magnum agreed, though he set additional conditions to these matches. All but the first would take place at the Odaiba Adventure King Mainichi Pro Wrestling matches. Furthermore, Magnum looked for any opportunity to embarrass Tanizaki, which included forcing him to change his ring gear to swimmer style Speedo trunks and dance with the cast of the swimming themed Fuji TV show Water Boys.
When Tanizaki failed to win a single match in the five extension matches, he was refused membership into Do FIXER outright. Shortly after, Tanizaki changed his hairstyle and joined the Iron Perm team with Don Fujii and Second Doi for the Rey de Parejas tournament. However, the team exploded in the end and Tanizaki was left laying in the ring. Suddenly, Magnum came out and surprised the world by giving the unconscious Tanizaki his Do FIXER shirt, thus accepting him into the unit.
#
Opponent
Date
Location
Result
Note
1
Magnum Tokyo
July 16, 2004
Fukuoka
TOKYO in 5:55
Egoist Driver
2
Toru Owashi
July 17, 2004
Nobeoka, Miyazaki
Owashi in 9:26
Diving Body Press
3
SUWA
July 18, 2004
Nagasaki
SUWA in 6:16
FFF
4
Masaaki Mochizuki
July 19, 2004
Sasebo, Nagasaki
Mochizuki in 6:14
Twister
5
Don Fujii
July 21, 2004
Oita
Fujii in 7:57
Nodowa Elbow
6
CIMA
July 22, 2004
Kumamoto
CIMA in 14:26
Nadareshiki Neji to Hashi
7
Dragon Kid
July 23, 2004
Kurume, Fukuoka
Dragon Kid in 7:54
Christo
8
Shuji Kondo
July 24, 2004
Saga
Kondo in 7:57
King Kong Lariat
9
Milano Collection AT
July 25, 2004
Kagoshima
Milano in 11:41
AT Lock
10
Shogo Takagi
August 1, 2004
Tokyo
Takagi in 8:45
School Boy from Magnum TOKYO Blue Box
Retrail #1
CIMA
August 7, 2004
Kariya, Aichi
CIMA in 7:51
Nadareshiki Neji to Hashi
Retrail #2
Susumu Yokosuka
August 10, 2004
Odaiba
Yokosuka in 6:34
Yokosuka Cutter
Retrail #3
YOSSINO
August 17, 2004
Odaiba
YOSSINO in 4:25
Sol Naciente
Retrail #4
Stalker Ichikawa
August 24, 2004
Odaiba
Ichikawa in 3:33
Kancho ~ Towel Throw TKO
Retrail #5
Daniel Mishima,
Michael Iwasa
August 31, 2004
Odaiba
Mishima in 6:49
Backdrop Hold
Ad blocker interference detected!
Wikia is a free-to-use site that makes money from advertising. We have a modified experience for viewers using ad blockers

Wikia is not accessible if you've made further modifications. Remove the custom ad blocker rule(s) and the page will load as expected.