Rocky Lobo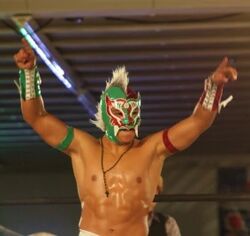 Born
November 30 1994
Tulancingo, Hidalgo, Mexico
Family
Taz El Feroz (father)
Articus (Brother)
Super Crazy (uncle)
Dinastia (Cousin)
Lancelot (Cousin)
Pesadilla (Cousin)
Professional wrestling career
Ring name(s)
Rocky Lobo
Height
1.71 m (5 ft 7

 

1⁄2 in)
Weight
74 kg (163 lb)
Trained By
Super Crazy
Taz El Feroz
Debut
September 8, 2009
  Rocky Lobo[1] is a Mexican luchador enmascarado or masked professional wrestler. In addition to working for promotions such as Desastre Total Ultraviolento (DTU) in his native country where Lobo won the DTU Nexu Championship with his cousin Lancelot, Lobo is also known for his work in the Japanese Dragon Gate promotion, where he was part of the stable Millenials.[2] He his also worked in Pro Wrestling Noah in Japan where he was part of the 2014 NTV G+ Cup Junior Heavyweight Tag League with Jinzo as La 4a Dimension.[3] His real name is not a matter of official record as he is an enmascarado, which by lucha libre traditions means that his personal life is kept secret from the general public.
Personal Life
Edit
Lobo trained for three years to be a professional wrestler and he was trained by his uncle Super Crazy and his father Taz El Feroz.
Professional wrestling career
Edit
Independent Circuit (2009-Present)
Edit
On September 8, 2009 Lobo made his debut in a X-Law in a Ten Man Elimination match were Lobo defeated Angel Suicida and Black Fire and Concord and Drastik Boy and Korey and Lancelot and Masterson Boy and Slayer. After that match Lobo spent another three years training. On May 17, 2011 Lobo made his return to professional wrestling in a LEGENG promotion event when he lost to his cousin Lancelot. On October 17 Lobo appeared in a IWL where he defeated Articus and Lancelot in three-way match. On November 17, 2012 Lobo made his debut at the Perros del Mal Producciones where Lobo and Celestial defeat Cosmico and Lancelot. On March 1 Lobo appeared WUW at their debut show where Lobo received a chance for the WUW Heavyweight Championship in a Six Way match where the winner was his uncle Super Crazy. On April 11 Lobo made a appearance at the LLT promotion where Lobo and Pesadilla lost to Emperador Azteca and Golden Magic defeat Los Compadres Extremos (Aeroboy and Violento Jack) in a Six Man Tag Team Three Way Elimination match. Also Lobo made some appearances in another Mexican independent promotions.
DTU (2011-Present)
Edit
On November 19, 2011 Lobo made his debut in DTU at their second anniversary show where Lobo, Arsenal and Miedo Xtremo lost to Angel Suicida, Elastick Boy and Sacristan del Diablo. On September 9, 2012 Lobo received a chance for the DTU Alto Impacto Championship in a Seven Way Match where the winner was Eita. On March 26, 2013 Lobo participated at the Torneo Liquilla Premier (or Liquilla Premier Tournament) where Lobo finished the tournament with 0 points. On May 4 Lobo received a chance for the DTU Alto Impacto Championship in a Six Way Match where the winner was Drastik Boy. On September 27 Lobo participated in a match to determine the 1 Contendership for the DTU Alto Impacto Championship in Six Way Match where the winner was Aeroboy. On November 8 to December 20 Lobo and Jinzo participated in a tournament to determine the first DTU Nexu Championship and at the quarter finals they defeated Los Mazisos (Ciclope and Miedo Xtremo) and at the semifinals they defeated Articus and Lancelot but they lost at the finals to Los 4x4 (Black Fire and Slayer). On March 21, 2015 Lobo received another chance for the DTU Alto Impacto Championship in a three way match where the winner was Jonathan Gresham. On December 5 to December 19 Lobo and his cousin Lancelot participated in a tournament for the vancated DTU Nexu Championship where Lobo and Lancelot defeated Atila and Tiburon and Chica Yeye and El Exotico and La Fortaleza (Corsario Negro Jr. and Drako) to win the DTU Nexu Championship..[4] On February 19, 2016 Lobo and Lancelot defeated Los Nerds (Jimmy and Kevin) to retain the DTU Nexo Champions. On May 1 Lobo and Lancelot lost the titles to Titan and Triton in a Three Way tag team match and the match also include Jinzo and Drastik Boy.[5] On July 15 Lobo and his cousin Pesadilla defeated Dr. Cerebro & Moto Cross and Stuka Jr. & Triton to win the DTU Nexo Championship for the second time. On November 6 they lost the titles to Dragon Rojo Jr. and Polvora.
Dragon Gate (2013)
Edit
In October 2013, it was announced that Rocky Lobo, along with fellow Mexican Flamita, had been signed by the Japanese promotion Dragon Gate.[6] He made his debut for the promotion on October 26, 2013, as part of the Millenials unit. Lobo stayed in Dragon Gate until December. On December 22 Lobo and his Millenials stablemates U-T and Yosuke♥Santa Maria defeated Jimmyz (Jimmy Kagetora and Jimmy Kanda) and Ryotsu Shimizu since that match Lobo was not seen in Dragon Gate and returned to Mexico.
Pro Wrestling Noah (2014)
Edit
On June 21, 2014 Lobo made his debut at Pro Wrestling Noah when he lost to Kenoh. On July 19 to August 2 Lobo and Jinzo participated at the NTV G+ Cup Junior Heavyweight Tag League and they finished the tournament with only 2 points winning only one match and lost the rest of their matches.
Lucha Libre Elite (2016)
Edit
On February 14 Lobo made his debut at Lucha Libre Elite when he and Zumbi lost to Argos and Karonte Jr.
Championships and accomplishments
Edit
Desastre Total Ultraviolento
References
Edit
Ad blocker interference detected!
Wikia is a free-to-use site that makes money from advertising. We have a modified experience for viewers using ad blockers

Wikia is not accessible if you've made further modifications. Remove the custom ad blocker rule(s) and the page will load as expected.