Ryuji Ito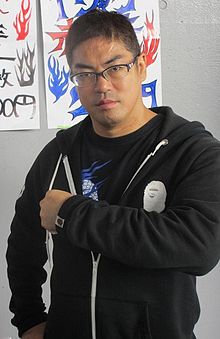 Born
December 1 1978
Toyonaka-shi, Osaka, Japan
Professional wrestling career
Ring name(s)
Dragon Show
Ryuji Ito
Ruko-Chan[1]
Height
1.85 m (6 ft 1 in)
Weight
95 kg (209 lb)
Trained By
BJW Dojo[2]
Debut
April 29, 1999
Ryuji Ito (伊東 竜二, Itō Ryūji?) (born April 8, 1976) is a Japanese professional wrestler currently competing in Big Japan Pro Wrestling. He is a current BJW Tag Team Champion in his second reign, a former six-times BJW Deathmatch Heavyweight Champion, a former WEW Hardcore Tag Team Champion and a former two-times Yokohama Shopping Street 6-Man Tag Team Champion. Ito first reign as BJW Deathmatch Heavyweight Champion his the longest reign until now with 850 days, holding the titles for almost three years. He is well known for his death match style of wrestling. Ito also have a boxing background during his high school days.
Ito also made appearances in Dramatic Dream Team (DDT), were he is a former KO-D Tag Team Champion and also made appearances for Apache Pro Wrestling Army. Ito also competed in the american independent circuit for Combat Zone Wrestling (CZW) IWA Mid South, IWA East Coast. In CZW Ito is the winner of the 2011 Triangle of Ultraviolence tournament. Ito also competed in the german wrestling promotion Westside Xtreme Wrestling (wXw) where he won the 2011 Messengers of Death Tournament.
Professional Wrestling Career
Edit
Big Japan Pro Wrestling (1999-present)
Edit
Ito's started his major sports background with boxing during his days in high school. He would drop out of university and join the Big Japan Pro Wrestling Dojo in 1998. He would successfully complete the training regiment and be allowed to make his pro-debut on April 29, 1999 against Jun Kasai.
He would begin competing in deathmatches in the Spring of 2003. Ito, whose gimmick is reminiscent of the Mortal Kombat icon Liu Kang, has been known for competing in many deathmatches over the span of his career. This would lead him to defeating Kintaro Kanemura on August 24, 2003 to win the BJW Deathmatch Heavyweight Championship. During this time Ito would win the BJW Tag Team Championship with BADBOY Hido. However four days later the duo lost the titles to Mr. Big Japan and Men's Teioh being the shortest reigning champions in the process. After that Ito would go on to make six successful defenses with the title until he lost to Abdullah Kobayashi in December of 2005, this marked Ito as the longest reigning BJW Deathmatch Heavyweight Champion, which he still holds to this day as 850 days.
After his title reign he would form a team with Takashi Sasaki as he began competing in other promotions as well. From Apache Pro Wrestling Army to even the USA in IWA Mid South and IWA East Coast, where he lost to Thumbtack Jack in the finals after defeating Drake Younger and Danny Havoc.
Ito would challenge Takashi Sasaki for the BJW Deathmatch Heavyweight Championship on September 10, 2006. This would lead him to capturing the belt for the second time in his career. Though the win was bitter sweet as he suffered multiple injuries, dislocations and fractures, after taking 4 meter drop during the match. Even though he won the match he lost the long-time was as he was forced to relinquish the belt due to the injuries. Ito stated at the time that he gave it his all in the match, but he disgusted that he was not able to withstand the damage that deathmatch wrestlers are expected of taking.
He would make his return in March of 2007, as he immediately got back into the deathmatch style of matches. He would recapture the BJW Deathmatch Heavyweight Champion on December 14, 2007 defeating Jaki Numazawa. He would hold the BJW Deathmatch Heavyweight Champion until May of the following year, as he lost to Shadow WX. Something of note in this match is that he suffered one of the nastier cuts from a fluorecent light-tube match. As he would end up having a shard of glass dig deep into his back. He would be forced to seek medical attention for the issue. He would return quickly from the injury, and the following month he would take on Jun Kasai in a Razor Cross Board Death Match. During the match, Kasai would take one of the bloodier bumps as he landed directly on the razors slicing him up. This match would garner much attention for BJW even going on to win the match of the year. This being one of the first deathmatches in 19 years to win the award.
On May 4, 2010, he would defeat Yuko Miyamoto to once more recapture the BJW Deathmatch Heavyweight Champion. He would go on to make six successful defenses as champion before falling to Abdullah Kobayashi in December of 2011. On September 8, 2012 Ito would win the Yokohama Shopping Street 6-Man Tag Team Championship with Kankuro Hoshino and Shinya Ishikawa defeating Kazuki Hashimoto, Takumi Tsukamoto and Yuji Okabayashi. In the beginning of 2013 the trio would lose the titles to Abdullah Kobayashi, Jaki Numazawa and Kazuki Hashimoto. In April of 2013, he would win the "Ikkitosen ~ DeathMatch Survivor" with a win over Isami Kodaka in the final match. He would suffer a minor fracture in his back that he would eventually put him out of action for the month July. Then a little of a year later he would defeat Isami, once again, this time for the BJW Deathmatch Heavyweight Champion effectively holding his fifth reign as champion. On August 9, 2014 Ito with Jaki Numazawa and Daisuke Sekimoto would win the vacant Yokohama Shopping Street 6-Man Tag Team Champions defeating Shinya Ishikawa, Ryuichi Kawakami and Kazuki Hashimoto. Ito, Nuazawa and Sekimoto would hold the titles from almost a year before drpopping them to Brahman Kei, Brahman Shu and Takayuki Ueki on June 15, 2015. On July 24, 2016 Ito lost the BJW Deathmatch Heavyweight Champion to Kankuro Hoshino. On July 17, 2017 Ito and Abdullah Kobayashi defeated Yuji Okabayashi and Daisuke Sekimoto to win the BJW Tag Team Championship.
Other media
Edit
Ito appears as himself in the video game Backyard Wrestling 2: There Goes the Neighborhood,[3] and also appears as himself alongside Daisuke Sekimoto, Abdullah Kobayashi, Takashi Sasaki and Jaki Numazawa in the 2006 movie Dirty Sanchez: The Movie. Ito and the other wrestlers perform wrestling moves on the three main cast members.[4]
In wrestling
Edit
Finishing moves

Argentine Coaster (Backbreaker rack dropped into a sitout facebuster)
Dragon Splash (Frog splash)

Signature moves

450° splash
Axe or scissors kick, sometime with light tubes on the opponent's back
Dragon Kick (Shining wizard)
Lariat
Moonsault

Multiple suplex variations

Dragon
German
Half nelson
Northern Lights
Rope hung Boston crab
Roundhouse kick, sometimes with light tubes on the opponent's face
Sitout scoop slam piledriver
Spear
Nicknames

"The Death Match Dragon"[6]

Entrance themes

"Halcyon + On + On" by Orbital (IWA MS)
"Dragon Road" by Eigenkreation (BJW)
Championships and accomplishments
Edit
Combat Zone Wrestling

Triangle of Ultraviolence (2011)

Dramatic Dream Team
Japan Indie Awards
Westside Xtreme Wrestling

Messengers of Death Tournament (2011)
References
Edit
Ad blocker interference detected!
Wikia is a free-to-use site that makes money from advertising. We have a modified experience for viewers using ad blockers

Wikia is not accessible if you've made further modifications. Remove the custom ad blocker rule(s) and the page will load as expected.