Satoshi Kajiwara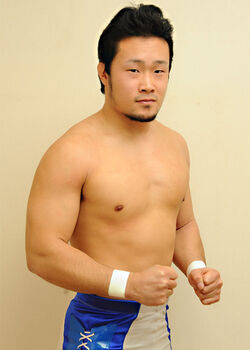 {{{caption}}}
Professional wrestling career
Height
170 centimeters (5 ft. 7 in.)
Weight
83 kilograms (183 lbs.)
Debut
October 14, 2007
Background
Edit
Satoshi Kajiwawa was one of the last known graduates of Ultimo Dragon's Toryumon Mexico. He advanced to the finals of the annual Young Dragons Cup just 2 months after his debut before moving to Japan and competing in both the Dragon System and the indies. Kajiwara found himself working for Tatsumi Fujinami's Dradition Pro-Wrestling and his fellow Dragon System graduates in SECRET BASE. Kajiwara joined Kensuke Office in January 2010, run by former NJPW wrestling Kensuke Sasaki, and has begun competing in NOAH. He hasn't appeared in wrestling since the closure of Kensuke Sasaki's Diamond Ring.
Championships and accomplishments
Edit
Ad blocker interference detected!
Wikia is a free-to-use site that makes money from advertising. We have a modified experience for viewers using ad blockers

Wikia is not accessible if you've made further modifications. Remove the custom ad blocker rule(s) and the page will load as expected.