Sho Shindo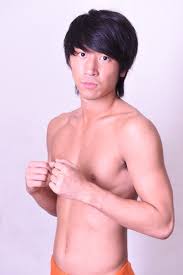 Born
August 25 1990
Chiba, Japan
Professional wrestling career
Ring name(s)
Sho Shindo
Height
1.75 m (5 ft 9 in)
Weight
67 kg (148 lb)
Trained By
Wrestle-1 Dojo
Debut
August 27, 2016
  Sho Shindo (進藤翔, Sho Shindo, born August 25, 1990), is a Japanese professional wrestler who works currently for Wrestle-1 on thier sub-promotion Pro Wrestling A.C.E.
Professional wrestling career
Edit
On August 27, 2016 Shindo made his wrestling debut. After that he started to losing matches as usual for a rookie. On November 12 it was announced that Shindo will be joining his rookie mates to Pro Wrestling A.C.E.
Ad blocker interference detected!
Wikia is a free-to-use site that makes money from advertising. We have a modified experience for viewers using ad blockers

Wikia is not accessible if you've made further modifications. Remove the custom ad blocker rule(s) and the page will load as expected.