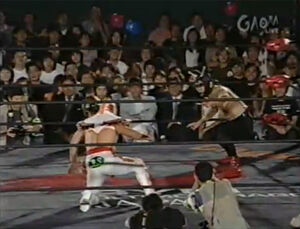 The Stalker Ichikawa Bosou 10 Match Series is a ten-match trial series Stalker Ichikawa undertook in Toryumon Japan from August 2000 through September 2002.
The point of the series was to essentially pit Ichikawa, widely regarded as the weakest wrestler in the world, against some of the most famous opponents from the business. Nothing was at stake, except for the fans to watch in delight as Ichikawa was literally used as a rag-doll by some of their favorite wrestlers. From time to time in the series, Ichikawa would perform in cosplay fashion, attempting to take on the persona of various famous wrestlers. Nevertheless, the end result was generally the same.
#
Opponent
Date
Location
Result
Note
1
Masashi Aoyagi
August 15, 2000
Kobe, Hyogo
Aoyagi in 2:00
Towel Throw -> TKO
2
Arashi
August 24, 2000
Tokyo
Arashi in 9:10
Elbow Drop
3
TARU
October 1, 2000
Tokyo
TARU in 7:54
La Magistral
Ichikawa cosplaying as Jushin Stalker Ichikawa, TARU cosplaying as TARUtimo Dragon.
4
Alexander Otsuka
October 12, 2000
Kobe, Hyogo
Otsuka in 7:40
41 Revolution Giant Swing
5
Tachikari
March 17, 2001
Tokyo
Tachikari in 3:44
Give Up
Ichikawa cosplaying as Bruiser Ichikawa. Ichikawa gave up to avoid being hit with Nodowa Otoshi.
6
The Great Kabuki
March 12, 2001
Tokyo
Kabuki in 4:11
Poison Mist -> Ref Stop
7
Mitsuhiro Matsunaga
February 24, 2002
Tokyo
Matsunaga in 5:03
Give Up
Ichikawa cosplaying as Tiger Jeet Ichikawa. Ichikawa gave up to avoid being hit with sword.
8
Kintaro Kanemura
May 19, 2002
Tokyo
Kanemura in 7:44
Thunder Fire Power Bomb
9
Takashi Okamura
June 7, 2002
Tokyo
Okamura in 0:05
Flying Knee Strike
Restart: Okamura in 3:04
Failed Chair Attack -> One Foot Pin Fall
10
Ultimo Dragoncito
September 8, 2002
Tokyo
Dragoncito in 3:33
Reversed Figure Four
Ichikawa cosplaying as Ric Ichikawa Flair.