Takanori Ito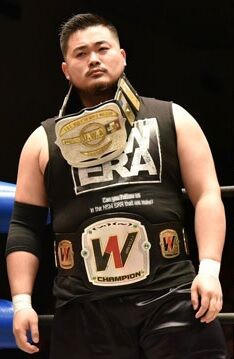 Birth name
Takanori Ito (

伊藤貴則

Itō Takanori)
Born
September 20 1993
Osaka, Japan
Professional wrestling career
Ring name(s)
Takanori Ito
Height
1.80 m (5 ft 11 in)
Weight
115 kg (254 lb)
Trained By
Wrestle-1 Dojo
Debut
September 18, 2016
  Takanori Ito (伊藤貴則, Itō Takanori, born September 20, 1993), is a Japanese professional wrestler who works currently for Wrestle-1 where he is the current Wrestle-1 Result Champion in his second reign and the UWA World Trios Champion in his first reign, while also being a former Wrestle-1 Tag Team Champion, alongside Masayuki Kono. In Karate Ito also won the Striker Full Contact Karate Heavyweight Championship.
Early Life
Edit
Ito before entering on the Wrestle-1 dojo, Ito had a background on Karate where he had the black belt.
Professional wrestling career
Edit
On September 18, 2016 Ito made his wrestling debut with his mate Dennis Shinohara losing to Mazada and Nosawa Rongai. After he scored his first win defeating another rookie Kohei Fujimura. On November 12 it was announced that Ito will be joining his rookie mates to Pro Wrestling A.C.E.
On April 19 Masayuki Kono challenged Koji Doi and Kumagoro into a title match for the Wrestle-1 Tag Team Champions. Kono announced that he would find himself an appropriate teammate which end up to be Ito being his partner. On May 4 Ito and Kono defeated Koji Doi and Kumagoro to win the Wrestle-1 Tag Team Championship. They lost the titles back to Doi and Kumagoro on June 24. On July 2 Ito defeated Seigo Tachibana in the finals of a tournament to earn the right to enter in the Wrestle-1 Grand Prix. At the Wrestle-1 Grand Prix Ito managed to get into the semifinals losing to his tag team partner Masayuki Kono. After the lost Ito won his first singles title in his career defeating Koji Doi on July 16 to win the Wrestle-1 Result Championship. He lost the title to Seigo Tachibana on his second title defense on August 11. Ito won the title back from Tachibana on September 2. On September 21 Ito alongside Seigo Tachibana announced that they had moved to main roster and they will become official members of the W-1 roster on October 1. On November 5 after Ito defend the Wrestle-1 Result Champion against Daiki Inaba he joined NEWERA. On December 2 Ito, Koji Doi and Kumagoro defeated Shotaro Ashino, Yusuke Kodama and Seigo Tachibana to win the UWA World Trios Championship. In the proccess Ito became a double crown champion.
In wrestling
Edit
Finishing moves
Signature moves

Diving Splash
Fallaway slam
Lariat
Penalty Kick (Soccer kick to the chest of a seated opponent)
Roundhouse Kick
Championships and accomplishments
Edit
Professional wrestling
Edit
Striker

Full Contact Karate Heavyweight Championship (1 time)
Ad blocker interference detected!
Wikia is a free-to-use site that makes money from advertising. We have a modified experience for viewers using ad blockers

Wikia is not accessible if you've made further modifications. Remove the custom ad blocker rule(s) and the page will load as expected.