Takehiro Yamamura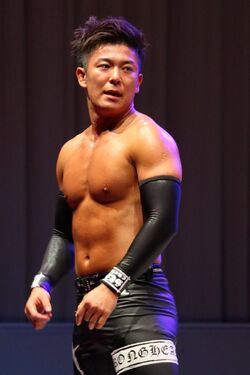 Born
May 28 1995
Osaka, Osaka, Japan
Professional wrestling career
Ring name(s)
Takehiro Yamamura
Height
1.73 m (5 ft 8 in)
Weight
72 kg (159 lb)
Trained By
Dragon Gate Dojo
Debut
November 9, 2015
Takehiro Yamamura (山村武寛, Yamamura Takehiro?, born May 28, 1995) is a Japanese professional who works currently for Dragon Gate. He is part of the stable Over Generation.
Yamamura since his debut as challenged in two for championships in Dragon Gate. The Open The Brave Gate Championship once and the Open The Twin Gate Championship once. Yamamura received a push in the beginning of 2017. Yamamura even participated in the King of Gate tournament in May until the beginning of June.
Early life
Edit
In his three years at the elementary school, Yamamura trained baseball and Yamamura interested in professional started when he played video games at a friends house. He quickly became a huge fan and wished to become a wrestler.
Professional Wrestling Career
Edit
Dragon Gate (2015-Present)
Edit
Debut and rookie days (2015)
Edit
On the beginning, Yamamura was denied to enter on the main roster until he ended in wrestle dark matches. On September 11 Yamamura debut on the main roster on Dragon Gate had his first victory when he defeated Kaito Ishida. On September 13 to September 20 Yamamura participated at the 2015 Summer Adventure Tag League at block B teaming with Gamma and replacing Cima that was injured and at the Summer Adventure Tag League Yamamura used CIMAs' ring costume for the league matches. They finished the tournament with only 2 points but those points were when Gamma teamed with Cima. Yamamura changed his ring attire to white and black shorts.
Over Generation (2015-present)
Edit
On October 8, Cima formed a new unit with Yamamura, Eita, Gamma, El Lindaman, Punch Tominaga, and Kaito Ishida.[1] On November 1, the unit was named Over Generation. On November 23 to December 5 Yamamura, Kaito Ishida and CIMA participated at the tournament for the vacated Open the Triangle Gate Championship at the first round they defeated VerserK (Cyber Kong, Kotoka and Naoki Tanizaki) but they lost in the semifinals to VerserK (Naruki Doi, Shingo Takagi and YAMATO). The rest of the matches in 2015 and 2016 were just midcard matches. On April 7, the all the members of Over Generation invited Dragon Kid to joined the stable and Kid joined the stable. On April 22 Yamamura had his first win on 2016 when he and El Lindaman defeated Punch Tominaga and U-T. On July 7 it was announced that Yamamura would participate at the 2016 Summer Adventure Tag League with Kaito Ishida at block A. At the end of the Summer Adventure Tag League Yamamura and Ishida finished block A with only 2 points defeating Yosuke Santa Maria and El Lindaman.
On February 22 Yamamura and the rest of the Over Generation Unit entered into a feud with VerserK after Yamamura wrestled a match against Big R Shimizu that ended in a time limit draw later that night Yamamura and Shimizu replaced Masato Yoshino and Kotoka to be Naruki Doi's and Ben-K's partners later that night. In the middle of the match Dr. VerserK cost Yamamura the match revealing to be his Over Generation stablemate Punch Tominaga who joined VerserK in the process. After the match Over Generation and VerserK agreed to a Loser Loses a Member Headhunting Match. On March 4 Eita faced El Lindaman for the Open The Brave Gate Championship. The match ended in a no contest due to Punch Tominaga and Mondai Ryu and Yamamura (who was trying to save from the attack of VerserK) interference. Due to this the Open The Brave Gate Champion was vacated and Eita and Yamamura were announced to take part of the tournament to crown the new champion. On March 8 Yamamura, CIMA, Eita, Dragon Kid and Naruki Doi defeated VerserK (Shingo Takagi, T-Hawk, Cyber Kong, El Lindaman and Punch Tominaga) in a Unit Headhunting Match after Yamamura pinned Tominaga after hitting him with Stardust Press. Because of the stipulation of the match CIMA choose Mondai Ryu as the new member of the Over Generation. On March 19, Takehiro Yamamura was defeated by Kzy, failing to advance to the semifinals.
On April 1 Yamamura pinned the Open The Brave Gate Champion Jimmy Kagetora in a six-man tag team match. However, he would not challenge Kagetora for the Open The Brave Gate Champion, saying that first he would own his skills. The following day Kagetora would pin Yamamura in another six-man tag team match. On April 23 Yamamura and Kagetora would then face each other in another, where Yamamura got the win pinning Kagetora after a Stardust Press. Following that Kagetora then challenged Yamamura into a match at the Dead or Alive for his Open The Brave Gate Championship. Yamamura would then accept the challenged. This led on May 5 Yamamura unsuccessfully challenging Kagetora for his Open The Brave Gate Championship. In May to the beginning of June Yamamura made his first appearance in the King of Gate tournament at block C. Yamamura would finish the tournament with 3 points defeating former three-times Open The Dream Gate Champion and current and one-half of the Open The Twin Gate Champions is Over Generation stablemate CIMA and then he would even wrestle Jimmy Kagetora again ending in a time-limit draw. On October, 1 during an eight-man tag team match, Yamamura suffered an injury, which later was diganosed as a spinal concussion.
In wrestling
Edit
References
Edit
External links
Edit
Ad blocker interference detected!
Wikia is a free-to-use site that makes money from advertising. We have a modified experience for viewers using ad blockers

Wikia is not accessible if you've made further modifications. Remove the custom ad blocker rule(s) and the page will load as expected.