Taro Nohashi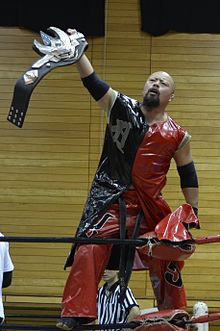 Birth name
Taro Nohashi (

野橋 太郎

Nohashi Taro)
Born
August 10 1982
Kobe, Hyogo, Japan
Professional wrestling career
Ring name(s)
Arakencito
Koichiro Arai
Shinjitsu Nohashi
Taro Nohashi
Height
1.56 m (5 ft 1 in)
Weight
68 kg (150 lb)
Trained By
Ultimo Dragon
Jorge "Skayde" Rivera
Debut
May 11, 2002

Taro Nohashi (野橋 太郎, Nohashi Taro)[1] is a Japanese professional wrestler. He currently wrestles in Michinoku Pro Wrestling.
Professional wrestling career
Edit
Nohashi, the smallest Último Dragón Gym trainee ever, made his pro wrestling debut in Toryumon Mexico in 2002 under the name of Koichiro Arai, Kenichiro Arai's (kayfabe) little brother. Koichiro teamed with Kenichiro and later with Chuichiro, the third brother, and wrestled in Toryumon Mexico and Toryumon X until 2004, when he changed his name to Shinjitsu Nohashi, the mini version of Jinsei Shinzaki.
After closing Toryumon X, Nohashi and his class were moved to Michinoku Pro Wrestling, where he formed a tag team with Shinzaki. On February 13, 2010 he turned heel and adopted his real name, Taro Nohashi, joining Fujita Hayato and his Kowloon stable.
In wrestling
Edit
Diving headbutt preceded by a prayer[3] - adopted from Jinsei Shinzaki
Nenbutsu Powerbomb[4] Sitout powerbomb preceded by a prayer) - adopted from Jinsei Shinzaki
Gokuraku-Gatame[1] (Straight jacket camel clutch) - adopted from Jinsei Shinzaki
Sakauchi[1] (Crucifix driver)
Shinjitsuichiro[1] (Modified reverse rolling prawn hold)
As Koichiro Arai/Arakencito
Cartwheel evasion
Flying forearm smash
Hurricanrana to an oncoming opponent followed by gamengiri
Jumping enzuigiri followed by a release belly to back suplex
No-handed springboard plancha
Running one-handed snapmare followed by triple jump missile dropkick to the opponent's face[1]
Springboard headbutt
Springboard moonsault
Straight jacket double knee backbreaker[1]
Throat thrust
Championships and accomplishments
Edit
Pro Wrestling Illustrated
PWI ranked him #326 of the top 500 singles wrestlers in the PWI 500 in 2006
Cite error: <ref> tags exist, but no <references/> tag was found