Tommy End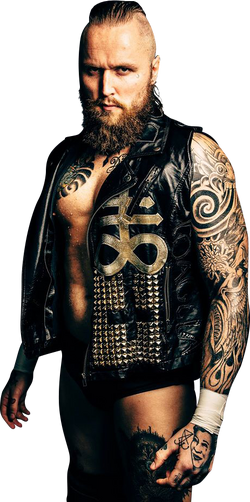 {{{caption}}}
Professional wrestling career
Height
180 centimeters (5 ft 11 in)
Weight
96 kilograms (212 lb)
Billed from
"The Lodge in Amsterdam"
Netherlands
Debut
2002
  Tommy End (born Tommy Budgen on May 19, 1985) is a Dutch professional wrestler currently signed to WWE. He is a prominent wrestler in the United Kingdom and Europe, working for promotions like Insane Championship Wrestling, Progress Wrestling, westside Xtreme wrestling, Over the Top Wrestling and Revolution Pro Wrestling among others.[1][2][3][4] He has also worked for international promotions, such as North America's Combat Zone Wrestling, EVOLVE and Pro Wrestling Guerrilla as well as the Japanese promotion Big Japan Pro Wrestling.[5][6][7][8][9][10][11][12]
End is known for having an extended background in martial arts and has competed in various martial arts such as kickboxing and Pencak Silat from ages 9 to 15. End still teaches and trains kickboxing to this day. End has adapted most of his background into his style giving him a unique striking ability and is known for utilizing devastating striking combinations to finish opponents. Kickboxing remains the biggest influence on his style in pro wrestling.
End has held numerous championships, among other accolades he is a former: wXw Unified World Heavyweight Champion, wXw World Light Heavyweight Champion, wXw World Tag Team Champion, ICW Tag Team Champion, Progress Wrestling Tag Team Champion.[13]
In June 2016, it was reported that End had signed with WWE and would report to the WWE Performance Center in September.[14]
In wrestling
Edit
Finishing moves
Signature Moves

Brainbuster
Multiple kick variations
Multiple knee variations
Multiple suplex variations
Multiple striking combinations
Nephilim (Springboard moonsault, sometimes to the outside of the ring)[15]

With Michael Dante

Double team finishing moves

Anti Hero (Dante holds opponent in a bodyscissor whilst End jumps from the second rope in a front flip giving their opponent a cutter whilst going down to the mat)
Black Mass (End uses a release Gourdbuster to throw an opponent into Dantes Front powerslam)
Dead Man's Trigger (Dante holds opponent in reverse bodyscissor, Whilste End jumps from the second rope with double knees)
Majestic Twelve (End does a running knee strike in the corner, whilst Dante comes in from the apron and gives his opponent a gore while jumping through the ropes at the same time)

Nicknames

"The End"
"The Anti-Hero"[18]

Entrance themes

"Zombie Autopilot" by Unearth
"New World Disorder" by Biohazard
"Frank Zito" by Necro
"Heavy Eyes" by Brutality Will Prevail]][19]
"Pleased to Meet You" by Trapped Under Ice
"Monolith" by Wraiths (Used whilst teaming with Michael Dante)
"Deathbed" by Agoraphobic Nosebleed
Championships and Accomplishments
Edit
Adriatic Special Combat Academy

Super 8 Cup II (2013)[20]

Catch Wrestling Norddeutschland
Fiend Wrestling Germany
Fight Club: PRO
Freestyle Championship Wrestling

FCW Deutschland Lightweight Championship (1 time)[27]

Insane Championship Wrestling
International Catch Wrestling Alliance
Pro Wrestling Holland

PWH Tag Team Championship (1 time, current) – with Michael Dante[35]

Pro Wrestling Illustrated

PWI ranked him #174 of the top 500 singles wrestlers in the PWI 500 in 2016[36]

Pro Wrestling Showdown
Progress Wrestling
Southside Wrestling Entertainment
westside Xtreme wrestling
References
Edit
Ad blocker interference detected!
Wikia is a free-to-use site that makes money from advertising. We have a modified experience for viewers using ad blockers

Wikia is not accessible if you've made further modifications. Remove the custom ad blocker rule(s) and the page will load as expected.