Triple Crown Heavyweight Championship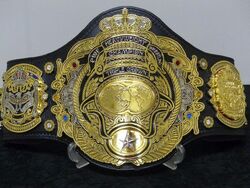 Details
The Triple Crown Heavyweight Championship (三冠ヘビー級王座, Sankan Hebīkyū Ōza) is a the top singles championship in the All Japan Pro Wrestling (AJPW) promotion. The title was introduced on April 18, 1989, after Jumbo Tsuruta as the NWA International Heavyweight Champion defeated Stan Hansen, the PWF Heavyweight and NWA United National Champion, to unify the titles.
Overview
Edit
The championship was established after the unification of its then-flagship title the PWF World Heavyweight Championship, with the NWA United National Championship and the NWA International Heavyweight Championship. The titles were unified on April 18, 1989 when International champion Jumbo Tsuruta defeated the PWF and UN champion Stan Hansen.
Unlike most unified championships, the Triple Crown was originally represented by the three individual belts. The original title belts were returned to All Japan founder Giant Baba's widow Motoko in August 2013 and a new single belt instead of three separate belts was made. The new title belt, which featured three plates representing the three original belts, was unveiled on October 27. One of the plates includes the text "Jumbo Tsuruta Apr. 18 1989", representing the crowning of the inaugural champion.
Title history
Edit
#
Wrestlers
Reign
Date
Length
Location
Successful defenses
Notes
1
Jumbo Tsuruta
1

April 18, 1989

48 Days
Tokyo
1
Tsuruta, the NWA International Heavyweight Champion, defeated Stan Hansen, the PWF Heavyweight and NWA United National Champion, to unify the titles.
2
Genichiro Tenryu
1
June 5, 1989
128 Days
Tokyo
2
3
Jumbo Tsuruta
2
October 11, 1989
237 Days
Yokohama
2
4
Terry Gordy
1
June 5, 1990
3

Days

Chiba
0
5
Stan Hansen
1
June 8, 1990
39 Days
Tokyo
0
6
Terry Gordy
1
July 17, 1990
10 Days
Kanazawa
0
—
Vacated
—
July 27, 1990
—
—
—
Gordy was hospitalized. The title is vacated as he is hospitalized during a scheduled title defense later that night.
7
Stan Hansen
2
July 27, 1990
176 Days
Matsudo
1
Defeated Mitsuharu Misawa to win the vacant championship.
8
Jumbo Tsuruta
3
January 19, 1991
374

Days

Matsumoto
3
9
Stan Hansen
3
January 28, 1992
207 Days
Chiba
3
10
Mitsuharu Misawa
1
August 22, 1992
705

Days

Tokyo
7
11
Steve Williams
1
July 28, 1994
86 Days
Tokyo
1
12
Toshiaki Kawada
1
October 22, 1994
133

Days

Tokyo
1
13
Stan Hansen
4
March 4, 1995
83

Days

Tokyo
0
14
Mitsuharu Misawa
2
May 26, 1995
364 Days
Sapporo
4
15
Akira Taue
1
May 24, 1996
61 Days
Sapporo
1
16
Kenta Kobashi
1
July 24, 1996
180 Days
Tokyo
2
17
Mitsuharu Misawa
3
January 20, 1997
466

Days

Osaka
8
18
Toshiaki Kawada
2
May 1, 1998
42 Days
Tokyo
0
19
Kenta Kobashi
2
June 12, 1998
141 Days
Tokyo
2
20
Mitsuharu Misawa
4
October 31, 1998
83

Days

Tokyo
0
21
Toshiaki Kawada
3
January 22, 1999
7

Days

Osaka
3
—
Vacated
—
January 29, 1999
—
—
—
Vacated after Kawada fracturedhis right ulna in winning the title.
22
Vader
1
March 6, 1999
57 Days
Tokyo
0
Defeated Akira Taue to win the vacant championship.
23
Mitsuharu Misawa
5
May 2, 1999
181 Days
Yokohama
2
24
Vader
2
October 30, 1999
120 Days
Tokyo
1
25
Kenta Kobashi
3
February 27, 2000
110 Days
Osaka
1
—
Vacated
—
June 16, 2000
—
—
—
Kobashi jumped to Pro Wrestling Noah.
26
Genichiro Tenryu
2
October 28, 2000
223 Days
Tokyo
1
Defeated Toshiaki Kawada in a tournament final.
27
Keiji Mutoh
1
June 8, 2001
261 Days
Tokyo
4
28
Toshiaki Kawada
4
February 24, 2002
32 Days
Tokyo
0
—
Vacated
—
March 28, 2002
—
—
—
Kawada suffered a knee injury.
29
Genichiro Tenryu
3
April 13, 2002
197 Days
Tokyo
1
Defeated Keiji Mutoh to win the vacant championship.
30
The Great Muta
2
October 27, 2002
119 Days
Tokyo
1
Formerly known as Keiji Mutoh.
31
Shinya Hashimoto
1
February 23, 2003
171 Days
Tokyo
2
—
Vacated
—
August 13, 2003
—
—
—
Hashimoto dislocated his right shoulder.
32
Toshiaki Kawada
5
September 6, 2003
529 Days
Tokyo
10
33
Satoshi Kojima
1
February 16, 2005
502

Days

Tokyo
8
Also won the IWGP Heavyweight Championship defeating Hiroyoshi Tenzan in a double title match.
34
Taiyō Kea
1
July 3, 2006
62 Days
Tokyo
1
35
Minoru Suzuki
1
September 3, 2006
357 Days
Sapporo
5
36
Kensuke Sasaki
1
August 26, 2007
247

Days

Tokyo
2
37
Suwama
1
April 29, 2008
152

Days

Nagoya
2
38
The Great Muta
3
September 28, 2008
167 Days
Yokohama
1
39
Yoshihiro Takayama
1
March 14, 2009
196 Days
Tokyo
2
40
Satoshi Kojima
2
September 26, 2009
176 Days
Yokohama
1
41
Ryota Hama
1
March 21, 2010
42 Days
Tokyo
0
42
Minoru Suzuki
2
May 2, 2010
119 Days
Nagoya
1
43
Suwama
2
August 29, 2010
420 Days
Tokyo
5
44
Jun Akiyama
1
October 23, 2011
308 Days
Tokyo
4
45
Masakatsu Funaki
1
August 26, 2012
203 Days
Tokyo
4
46
Suwama
3
March 17, 2013
224 Days
Tokyo
2
47
Akebono
1
October 27, 2013
215 Days
Tokyo
4
—
Vacated
—
May 30, 2014
—
—
—
Vacated due to Akebono being sidelined with health issues.
48
Takao Omori
1
June 15, 2014
14 Days
Tokyo
0
Defeated Jun Akiyama to win the vacant championship.
49
Suwama
4
June 29, 2014
28 Days
Sapporo
0
50
Joe Doering
1
July 27, 2014
160

Days

Tokyo
3
51
Go Shiozaki
1
January 3, 2015
138 Days
Tokyo
2
52
Akebono
2
May 21, 2015
164

Days

Tokyo
2
53
Jun Akiyama
2
May 21, 2015
62 Days
Hirosaki
0
54
Suwama
5
January 2, 2016
10 Days
Tokyo
0
—
Vacated
—
January 12, 2016
—
—
—
Vacated due to Suwama rupturing his achilles tendon.
55
Kento Miyahara
1
February 12, 2016
464 Days
Tokyo
8
Defeated Zeus to win the vacant championship.
56
Shuji Ishikawa
1
May 21, 2017
98 Days
Tokyo
2
57
Kento Miyahara
2
August 27, 2017
43 Days
Tokyo
0
58
Suwama
6
October 9, 2017
12 Days
Tokyo
0
59
Joe Doering
2
October 21, 2017
155 Days
Yokohama
2
60
Kento Miyahara
3
March 25, 2018
126 Days
Saitama
2
61
Zeus
1
July 29, 2018
79+
Osaka
1