WDWW Championship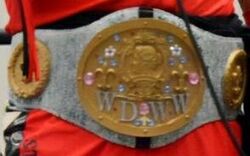 Details
Current Champion(s)
Akagi

Date Won
December 23, 2016
Promotion(s)
Doutonbori Pro Wrestling
Date Established
November 7, 2016

Statistics
First champion(s)
Akagi
Longest reign
Akagi (389+ days)
Oldest winner
Akagi (33 years, 389+ days)
Heaviest winner
Akagi (93 kg (205 lb))
The WDWW Championship is the comedy-based championship in Doutonbori Pro Wrestling promotion. It is not won via direct competition, it is instead won via a predetermined ending to a match or awarded to a wrestler because of a wrestling angle.
Title history
Edit
| # | Wrestler | Reign | Date | Location | Length | Defenses | Notes |
| --- | --- | --- | --- | --- | --- | --- | --- |
| 1 | Akagi | 1 | December 23, 2016 | Osaka | 389+ | 4 | Defeated Ayaka, Billy the Kid 8, Bonjin Pulp, Bull Armor TAKUYA, Danjiro Arashi, Evil Man, Fairy Nihonbashi, Hiroaki Moriya, Konamon, Kosoku Mochi-Tsuki Man, Kuishinbo Kamen, Kyusei Ninja Ranmaru, Masamune, Maylee, Mede Tiger Mask, Mikiya Sasaki, MIZUKI, Mr. UO and Paul Blaze and Real Inunakin and Super Delfin and Super Gato and Taiyoto Kamen and Takemaru and Takochuyuda and Takoyakida and Umi Goya and Wakashoyo and Yun Gang Chul and Yuji Yoshida in a battle royal to become the first champion. |
Ad blocker interference detected!
Wikia is a free-to-use site that makes money from advertising. We have a modified experience for viewers using ad blockers

Wikia is not accessible if you've made further modifications. Remove the custom ad blocker rule(s) and the page will load as expected.