WDW Championship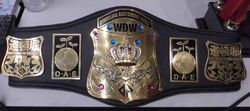 Details
| | |
| --- | --- |
| Current Champion(s) | Billyken Kid |
| Date Won | September 16, 2018 |
| Promotion(s) | Doutonbori Pro Wrestling |
| Date Established | August 10, 2014 |
The WDW Championship is the top singles championship in the Doutonbori Pro Wrestling promotion. The title was announced on August 2014, in conjunction with the start of a tournament to crown the first WDW Tag Team Championship. On August 10, 2014 Kuuga won the 2014 Doutonbori Saikyou Otoko Tournament to be crowned as the inaugural champion. WDW means Wrestling Doutonbori World.
Championship tournament
Edit
The 2014 Doutonbori Saikyou Otoko Tournament was held from July 6 to August 10, 2014. The tournament was served to crown the inaugural WDW Champion. The winner Kuuga defeated Billyken Kid to become he inaugural champion.
Title History
Edit
#
Wrestler
Reign
Date
Location
Length
Defenses
Sucessfull Defenses
Event
Notes
1
Kuuga
1
August 10, 2014
Osaka
267 Days
1
1. defeated Masamune on October 5, 2014
Dotonbori Summer Crash 2014 ~ First Dotonbori Saikyou Otoko Tournament ~ - Day 5
Defeated Billyken Kid in the finals of the 2014 Doutonbori Saikyou Otoko Tournament to become the inaugural champion.
2
Rapid
1
May 4, 2015
Hyogo
517 Days
3
1. defeated Shingen on September 23, 2013
2. defeated TORU on April 30, 2016
3. defeated Hiro Tonai on June 25, 2016
Dotonbori Pro Vernal Storm 2015 - Day 4
3
Magnitude Kishiwada
1
October 2, 2016
Osaka
182 Days
0
Dotonbori Pro 3rd Anniversary Series 2016 - Day 4
4
Kazuaki Mihara
1
April 2, 2017
Osaka
264 Days
2
1. defeated Katsumi Oribe on May 7, 2017
2. defeated GAINA on July 16, 2017
Live Event
5
TORU
1
December 22, 2017
Osaka
268 Days
1
1. defeated Rapid on May 27, 2017
Live Event
6
Billyken Kid
1
September 16, 2018
Osaka
89+
0
Live Event