YOSHIYA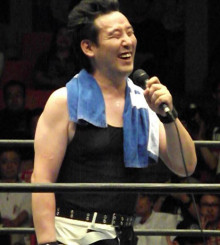 Birth name
Yoshiya Yamashita
Born
December 21 1976
Musashino, Tokyo, Japan
Professional wrestling career
Ring name(s)
YOSHIYA
Yoshiya Yamashita
Hiroshi Hiraku
Makai 11
Height
1.85 m (6 ft 1 in)
Weight
107 kg (236 lb)
Trained By
Animal Hamaguchi
Debut
August 12, 1997
Retired
October 14, 2012
Yoshiya Yamashita (山下 義也, Yamashita Yoshiya, born December 21, 1976) or simply Yoshiya (stylized in all capital letters) is a Japanese professional wrestler. He best known for his work with Kaientai Dojo.
Currently Yamashita works as judo therpsit in Japan.
YOSHIYA debuted in IWA Japan, using his real name, Yoshiya Yamashita. After that he rename to his first name stylized in all capital letters. In 2001 he left the company and shortly thereafter he joined K-Dojo. YOSHIYA has always been a respected member of the company, but since he is one of the few wrestlers working for the promotion that has not been trained by Taka Michinoku, he has never been considered as the ace of the company. YOSHIYA also appered in New Japan Pro Wrestling as Makai 11 as part of the Makai Club unit. In 2007 YOSHIYA left the company for several months, returning in 2008 only as a part time wrestler. On December 6 YOSHIYA and Hardcore Kid Kojiro defeated Saburo Inematsu and PSYCHO to win the WEW Hardcore Tag Team Champions. They lost the titles to Brahaman Shu and Kei on May 5, 2009. In 2009 he formed a unit with Ryuchi Sekine and Yuu Yamagata named Yamashita Ikka but they would disband in 2010. On September 19, 2012 YOSHIYA and Kengo Mashimo would defeat Kamui and Mammoth Sasaki for the WEW Hardcore Tag belts but they would vacate the belts on October 14 due to YOSHIYA retring from professional wrestling.
In wrestling
Edit
Finishing moves

Under the Mountain (Chokebomb)
Chokeslam
Big boot
Championships and accomplishments
Edit
Ad blocker interference detected!
Wikia is a free-to-use site that makes money from advertising. We have a modified experience for viewers using ad blockers

Wikia is not accessible if you've made further modifications. Remove the custom ad blocker rule(s) and the page will load as expected.