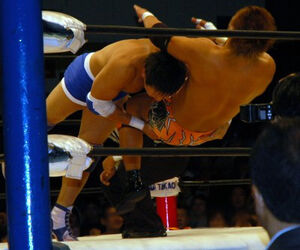 The Yamato Onodera Pre-US Excursion Series is a five-match trial series Yamato Onodera undertook in Dragon Gate from January 2007 through February 2007.
A year into the existence of Dragon Gate NEX, a NEX-1 Tournament was held to determine the strongest competitor within the group. The winner would be awarded a learning excursion to the Unites States, training with Shingo Takagi at the newly established Dragon Gate USA dojo in Houston, Texas. Yamato Onodera would go on to defeat Cyber Kong in the finals to win the tournament.
Before taking off to the United States, Onodera would undergo a five-match trial series. The purpose of the series was to toughen Onodera for his trip to the foreign country. The achieve this, all five of his opponents were the five most recent Open The Dream Gate Champions. As one would expect, he lost all five matches. Nevertheless, he showed great potential that would be unlocked upon his return in May as YAMATO. Within three years, he himself would become an Open The Dream Gate Champion.
#
Opponent
Date
Location
Result
Note
1
Magnitude Kishiwada
January 21, 2007
Kobe, Hyogo
Kishiwada in 9:32
Diving Body Press
2
Ryo Saito
January 27, 2007
Hamamatsu, Shizuoka
Saito in 9:17
Dragon Suplex Hold
3
Don Fujii
January 28, 2007
Kyoto
Fujii in 11:17
Nice German
4
Susumu Yokosuka
February 11, 2007
Wakayama
Yokosuka in 11:33
Mugen
5
Masaaki Mochizuki
February 12, 2007
Kobe, Hyogo
Mochizuki in 12:28
Nadareshiki Twister 2
Ad blocker interference detected!
Wikia is a free-to-use site that makes money from advertising. We have a modified experience for viewers using ad blockers

Wikia is not accessible if you've made further modifications. Remove the custom ad blocker rule(s) and the page will load as expected.