Yoshihisa Uto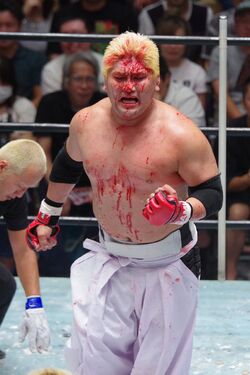 Birth name
Yoshihisa Uto (

宇藤純久

Uto Yoshihisa)
Born
May 12 1988
Aichi, Japan
Professional wrestling career
Ring name(s)
Yoshihisa Uto
Height
1.83 m (6 ft 0 in)
Weight
110 kg (240 lb)
Trained By
BJW Dojo
Debut
March 25, 2015
Yoshihisa Uto (宇藤純久, Uto Yoshihisa, born May 12, 1988) is a Japanese professional wrestler trained by and signed to Big Japan Pro Wrestling (BJW).
Professional wrestling career
Edit
Uto got his taste of being a pro-wrestler by competing in the student wrestling group while he was in university. He would then compete from time to time in Pro-Wrestling Shi-en in 2012 and following. He would compete under the name Bottosai Shichiten.
Though due to recommendation to Okabayashi and Sekimoto he was given a chance to tryout for Big Japan Pro-Wrestling in 2014. Where he would pass the entrance test and join the promotion. This would negate any of his previous training as he would be re-trained to debut under Big Japan's system. His debut would came in March 25, 2015 as he teamed with Ryuichi Kawakami to take on the team of Kazuki Hashimoto and Tatsuo Omori. Later on in the year he would compete against Hideki Suzuki and following the match the two would regular begin to team together.
The end of 2016 would see Uto claim his first ever accomplishment in the ring as he and DDT's Kazusada Higuchi would win a "One Day 16 Team Shuffle Tag Tournament" at the the multi-promotion "New Year's Eve Pro-Wrestling" show on December 31.
Uto would make a challenge for the BJW World Strong Heavyweight Championship following a win over Daisuke Sekimoto in December 2016. This would lead to a challenge against Sekimoto on January 29, 2017. Though putting up a strong effort he would fall to the veteran. On May 15 Uto, Takuya Nomura and Hideki Suzuki defeated Abdullah Kobayashi, Masaya Takahashi and Takayuki Ueki for the Yokohama Shopping Street 6-Man Tag Team Championship, winning it's first professional wrestling championship in the process. On June 3 Uto, Nomura and Suzuki lost the Yokohama Shopping Street 6-Man Tag Team Champions to Ryota Hama, Yasufumi Nakanoue and Shogun Okamoto.
In wrestling
Edit
Signature moves

Guillotine Drop
Jumping Knee
Skewed Lariat (Lariat)
Championships and accomplishments
Edit
Toshikoshi Puroresu

New Year's Eve One Day 16 Team Shuffle Tag Tournament (2016) – with Kazusada Higuchi
Ad blocker interference detected!
Wikia is a free-to-use site that makes money from advertising. We have a modified experience for viewers using ad blockers

Wikia is not accessible if you've made further modifications. Remove the custom ad blocker rule(s) and the page will load as expected.